Brit Muslim Drag Artist Gay Wedding Music Video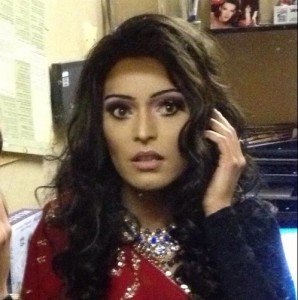 Leading drag artist Asifa Lahore is releasing her latest and most politically significant music cover to date, using her position as a global pioneer to promote gay marriage, family acceptance and to speak out against India's Section 377. Unlike her previous videos, Asifa's latest offering has been funded completely by her fans and followers, in a bid to tackle the lack of South Asian LGBT role models.
After recording her version of Bollywood love song 'Tum Hi Ho', Asifa called for support in crowd funding a music video about acceptance and gay marriage. The campaign was a success with the majority of donations coming from the South Asian LGBT community, highlighting the relevance and need for this exposure.
The Tum Hi Ho music video depicts a same sex couple attending a friend's wedding with their parents, who are adjusting to this unconventional relationship. "The song is a beautiful Bollywood ballad about unconditional love crossing boundaries and giving support, a message that anybody, gay or straight can relate to."
The new music video sees Asifa step out of her trademark camp cheeky persona, adopting a more serious tone to relay the issues that many hold so dear. "My fans may be surprised by my serious role", explains Asifa. "But in order to do justice to the song, I decided to strip it back and deliver a performance that is raw and relatable".
The Tum Hi Ho video will be released on 24th March, the very week of the first gay marriages in the UK. But with such celebrations in the UK, the video also highlights the ongoing plight in India, where Section 377 has been reinstated, banning gay relationships that were legalised only three years earlier. "My version of Tum Hi Ho is about equal love and is a counter action to the stigma, discrimination and anti-LGBT laws being instated in India, Russia, Uganda and Nigeria. The concept of marriage is embedded in South Asian culture and I want to show that South Asian LGBT communities are ready to embrace Gay Marriage in the UK."
https://www.youtube.com/watch?v=_FolK6hK-_g                                                                     Image: twitter