Bent Travel – Disneyland Paris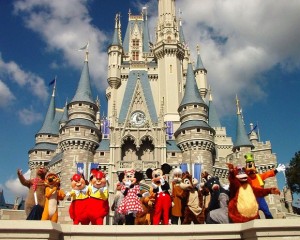 With a cheery giant Mickey (and friends) parading beneath fairytale castles… all set amidst white-knuckle rides… us gays have long high-indexed on the legendary Disney scale – doubly so if you're one of the increasing number of gays with kids! Every day's a "Gay Day" at Disney!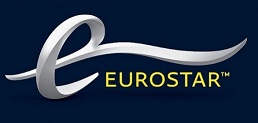 Getting there: Eurostar
For the smoothest, most stress-free way to travel to Disneyland Paris, simply hop on the high-speed Eurostar from London's jaw-dropping space-age St Pancras International station. Eurostar's direct daily service will whisk you to, and/or from, the heart of Disneyland Paris in little more than 2½ hours each way. Climb off the train and head for the fun!
When travelling from many UK rail stations outside of London, you can even buy one ticket right the way through. You might also decide to take the Eurostar from London to either the city of Paris or the city of Lille, and then take connecting French trains. Whichever, you'll be there in no time!
And why not treat yourself – and any nippers – to Standard Premier, with more spacious carriages, plus complimentary mags and meals, including child-friendly options.
Eurostar operates a daily direct service in each direction to Disneyland Resort Paris (daily direct services to the resort do not operate on Tuesdays and Saturdays except during school holidays)
Fares are from £69 return (adult) £49 return (child aged 4-11 on day of travel) and children under 4 years-old travel free (not allocated a seat)
Standard Premier travel is from £159 return for adults and £111 return for children aged 4-11
Fastest journey times are 2h 47 minutes from London; 2h 27 minutes from Ebbsfleet; and 2h 03 minutes from Ashford, Kent
Two parks: one ticket!
So: the train pulls in. With two Disney Parks, you're offered the choice between the ride-brimming Disneyland Park (comprising Main Street USA; Fantasyland; Adventureland; Frontierland; and Discoveryland); and the magic-of-the-movies at Walt Disney Studios Park. Or, if you choose a Park Hopper ticket, you can visit both!
DISNEYLAND PARK
To spy all the key Disney characters at once, grab a place on Main Street USA and gasp as the Disney Magic on Parade unfurls before your eyes – parade timetable from City Hall upon arrival! Meet your favourite classic Disney characters, from Mickey to Goofy – plus a few more recent arrivals! And don't miss the night-time firework spectacular, Disney Dreams!
Experience the whacky imagination-made-real in Fantasyland. See its crooked houses, wonky chimneys and giant beanstalks. Younger children can feel especially at home here, flying above London at night on Peter Pan's Flight; singing along with the cheery little dolls at It's a Small World; getting bizarrely lost in Alice's Curious Labyrinth; spinning around in the Mad Hatter's Tea Cups; or laughing as Pinocchio's nose grows in Les Voyages de Pinocchio. Don't forget Sleeping Beauty's Castle either – iconic, and complete with fire-breathing dragon in its dungeon!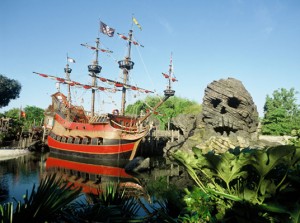 Pirates and treasure are then the next stop on the fun map, in Adventureland, amidst Caribbean islands with shady palms and pirate-swarming seas. Wander through Aladdin's Arabian Bazaar; cross the rope bridge to Adventure Isle, with its waterfalls and dripping caves at Skull Rock, where Captain Hook's Pirate Ship skulks on a murky green lagoon, overlooking Pirates' Beach. Then – at least for those of us tall enough – embark on a whip-cracking adventure on the Indiana Jones & the Temple of Peril tummy-turner; cruise through the atmospheric Pirates of the Caribbean; or climb 176 steps to the top of the shipwrecked Swiss Family Robinson's Treehouse for panoramic Disney-wide views!
Next, it's "howdy partner", in Frontierland, where a gold-rush brings the Wild West back to life. Yee ha! Take a runaway train ride around the canyons and lakes of Big Thunder Mountain; or dare to disturb the ghostly bride who waited for her groom in vain at crumbling Phantom Manor! The Cruise takes you by paddle steamer past bubbling geysers. Burn off any remaining energy in the Pocahontas Indian Village.
Explore Discoveryland, where a futuristic world of space ventures and sci-fi spins budding hot-shot astronauts 360° on the Buzz Lightyear Laser Blast. Your tiddler can learn to drive early at futuristic Autopia, a low-speed car track; or they can admire the secrets of the sea by sub at Les Mystères du Nautilus. Blast off on a spinning rollercoaster to the edges of the universe in Space Mountain: Mission 2. Set off for an intergalactic adventure aboard the Starspeeder 3000 space ship at Star Tours.
WALT DISNEY STUDIOS PARK
And so, leave the DisneylandPark behind for a while, and move onto neighbouring Walt Disney Studios Park. See film animation brought to life in the four "cinemagical" lots – the Front Lot, Backlot, Production Courtyard and Toon Studio. Make your Tinsel Town debut at Disney Studio 1 and take the Studio Tram Tour to a behind-the-scenes blockbuster. Find Nemo and dive deep down to the coral reefs of Crush's Coaster then head up, up and away to Stitch Live! for an out-of-this-world meet-and-greet. The Stunt Show Spectacular is chock-full of high-speed jumps, bravado and bumps.
But only the truly brave dare drop in on the Twilight Zone Tower of Terror; only the sure-of-tummy dare brave the G-forces and defy gravity via a twist on the beat-driven Rock 'n Roller Coaster! For the younger ones, only the tight-of-nappy should venture onto the Flying Carpets Over Agrabah. Don't miss the Disney's Stars 'n Cars parade too!
FASTPASS service
You may utilise free Disney FASTPASS tickets which allow you to skip queues, at times of your pre-choosing, on nine of the most popular attractions across both parks. Or – for a true time-saving, value-enhancing treat – buy a VIP FASTPASS, for unrestricted fast-track access to those same top rides.
Food, hotels & packages
Burgers, candyfloss, popcorn and ice cream – there's food piled high on every corner of both Disney parks. Alternatively, save money by eating your homemade picnic in designated areas. Or munch your way around the world, from Mexican tacos to New York-style deli sarnies, in fast-food cafés. For a special treat, book lunch or dins at Disneyland Paris restaurants and dine with actual Disney princes and princesses, before enjoying the buzzing night-time options – films and shows – at Disney Village.
Of course, what with DisneylandPark and the WaltDisneyStudiosPark, you couldn't possibly see everything in one day, and staying at a nearby hotel will mean you get to experience more of both parks, meaning you won't leave any kids disappointed, large or small! So pick from any one of the many hotels around the Disneyland Resort, to suit all budgets! Book your train and hotel together and save money! Book a Disneyland package to stay on site and thereby be first in line!