Travel – New York, New York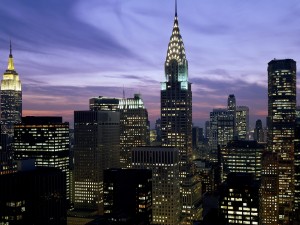 Sights, lights, nights! Adrian Gillan flies Virgin Atlantic to get Bent's gay guide to the Big Apple!
So good, you just have to name it twice, this former Native American homeland and Dutch colony is the most sung-about place on Earth – from Porter, Bernstein and Sinatra to Pet Shop Boys, U2 and Madge!
WHEN TO GO
ASAP: for a tad chilly shopping spree or winter treat – complete with amazing Rockefeller Centre Ice Rink. Or – if you can wait, and seek extreme heat – for New York Pride Week (22 – 29 June 2014), commemorating those famous Stonewall Riots. Or, frankly, you can't beat spring or autumn here either!
WHERE TO STAY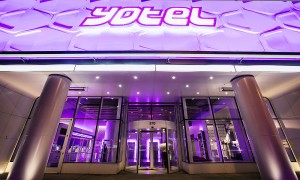 Think first class air travel meets NASA meets Tokyo! Affordably luxurious YOTEL New York (570 Tenth Avenue, at W 42nd St; New York, NY 10036; T: +1 646 449 7700;) is not only ultra-modern, innovative and brilliantly located, it is also funky, functional and fun. Its Midtown West address near Times Square, mere blocks from gay bars and clubs in Hell's Kitchen and a nice stroll from gay Chelsea, make it an ideal base for scene and sights.
The fun lasts from automated check-in right through to automated check-out and robotic baggage-storage. Any problems and 24/7 one-stop service centre, Mission Control is on hand throughout to guide you in, or blast you off! Moreover, the chic and airy fourth-floor space also boasts bars, the Dojo restaurant, lounge areas, a LEGO wall and the largest hotel terrace in New York City!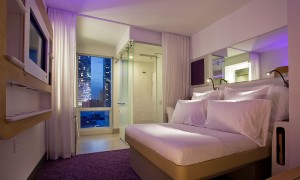 Cabins – available in Premium, Executive, First and VIP arrangements – all boast stunning views of the Manhattan skyline and are carefully designed to place all amenities quite literally within your grasp, via efficient layouts, push-of-a-button fold-away beds and minimalist design. Sleep on hand-made organic mattresses; watch the flat screen on your techno wall; work at, or make free US calls from, your desk; or take a monsoon shower, to relax or invigorate.
Super-strength Wi-Fi operates throughout the hotel; complimentary hot drinks, purified water and ice are found at each floor 'galley' 24/7; and you can enjoy free muffins, coffee and tea at Dojo each morn.
WHAT TO DO
9/11 Memorial – two holes in the ground, transformed into vast fountains and lists of names, that now leave a big hole in your heart.
Brooklyn Bridge – Take the subway toBrooklyn High Street, then stroll back across towards indomitableManhattan via the mighty old wood-planked cable-and-brick bridge. Awe-inspiring, day or night; and the best way to view that world-famous Downtown skyline.
Statue of Liberty – Take the ferry from Battery Park across to great Lady Liberty, the French people's iconic gift to the Americans; and welcoming beacon to many millions of early immigrants.
Empire State Building – The lift journey up, through Art Deco heaven, is almost as amazing as the all-round sky-high Midtown vista from the viewing deck itself. An icon, dominating the sprawling icon that surrounds.
Top of the Rock – Close toCentral Park, the viewing platform atop the Rockefeller Centre is the new kid on the sightseeing block! Great elevator ride up and down too!
Central Park – Just north of Midtown, the city's green lungs stretch high up intoHarlem. Haunting in all seasons, and dominated by the high-rise jungle that borders on all sides. Check out the zoo; and the nocturnally cruisy "Rambles" – a warren of boulders, bushes, boys and undulating paths.
The High Line – public park on a disused elevated rail line, running from the Meatpacking District up to Chelsea! A pleasant, scenic 20-minute stroll without having to cross a single road!
Grand Central Station & Fifth Avenue – The Big Apple's heart and spine. The station's Art Deco bedazzles; and the Fifth's big name style brands entice and beguile.
Broadway, 42nd Street & Times Square – For shows and concerts galore. As Pet Shop Boys sing, neon-lit Times Square is "where seventh avenue meets Broadway"… and 42nd Street 'n all.
Museum of Modern Art – One of the world's greatest modern and contemporary art galleries.
American Museum of Natural History – vast, with an awesome planetarium too!
Metropolitan Museum of Art – 5th Avenue, on Central Park, opposite East 81st and 82nd Streets. Planet Earth's manmade treasures, fromEgypt to today.
Guggenheim Museum – This amazing snail's-whorl of a building, near the Met Museum of Art, is brimming with modern masterpieces and exciting exhibitions around its main spiral ramp.
Lincoln Centre – world-class performing arts complex comprised of  the David H. Koch Theater (home to the stunning New York City Ballet); the Avery Fisher Hall (home to the amazing New York Philharmonic); and the Metropolitan Opera  House, a.k.a. 'The Met' (home to the glorious Metropolitan Opera).
Carnegie Hall – the city's premiere historic performance venue, showcasing sublime seasons of concerts by top soloists and ensembles, including the award-winning and unique Orpheus Chamber Orchestra who appear to do quite well indeed, thank you, without resorting to a conductor!
Beyond Manhattan – For completely different feels, get beyond Manhattan to Brooklyn or one of the other outer districts.
WHERE TO EAT, BOP, BOOZE 'N CRUISE
There are four main queer quarters inNew York, each with their own distinct character and clientele.
HELL'S KITCHEN & MIDTOWN: 'THE NEW CHELSEA', YOUNG MUSCLE AND TWINKS
Therapy (348 W 52nd St;) – Stylish minimalist hot spot.
The Ritz (369 W 46th St;) – Cheeky stylish dance and chill-out joint.
XL Nightclub, Cabaret, & Lounge (512 West 42nd Street;) – Large gay club on two floors, with cabaret room.
VIVA! (605 West 48th St;) – Saturday night gay club of fine repute.
CHELSEA: YOUNG, AND LESS YOUNG, MUSCLE
g Lounge (225 W 19th St;) – Arguably the originalChelsea lounge-bar.
Barracuda (275 W 22nd St;) – Friendly, no-attitude gay lounge-bar of long-standing.
Boxers NYC (37 West 20th St;) – Buzzing LGBT sports bar.
Gym (167 8th Ave;) – Another Chelsea sports bar.
West Side Club (27 West 20th St;) – Sauna and sex cabin maze.
GREENWICH VILLAGE: TRADITIONAL AND CLONE
Village Den (225 West 12th St;) – Friendly gay-frequented eatery offering excellent food at amazingly low prices.
Stonewall Inn (53 Christopher St;) – Site of the 1969 riots, birth-place of the modern gay rights movement, where Pride began – fully revamped, still packing 'em in!
The Monster (80 Grove St, Sheridan Sq;) –Sheridan Square's pride and joy boasts a lounge, dance floor, piano bar and cabaret.
Ty's (114 Christopher St;) – Friendly joint, on Village scene since early 70s.
The Duplex (61 Christopher St;) – Sing along at the downstairs piano bar or enjoy a show upstairs.
EAST VILLAGE & ALPHABET CITY: ALTERNATIVE, EDGY
Boiler Room (86 East 4th St at 2nd Ave;) – Notable hub, fab duke box.
The Cock (29 2nd Ave) – Self-acclaimed sleaze bar, fab.
Eastern Bloc (505 E 6th St;) – Commie chic meets village boys.
GETTING THERE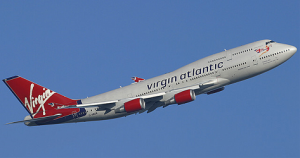 Virgin Atlantic flies between London Heathrow and New York (either JFK or Newark)  six times a day, with Economy fares from as low as around £541 return, including taxes, offering the best in-flight entertainment and service in the business. Or why not pay that bit extra to stretch your legs in award-winning Premium Economy? Or really splash out to upgrade yourself to their legendary Upper Class? Heathrow's massive multi-million pound flagship Virgin Clubhouse lounge, with its wide range of ambiences in different seated areas, provides the ultimate pre-flight experience for passengers, with an array of exciting and unique features – from neck and face massages and hair styling, to pool tables and a fun children's play area, to keenly attentive roving waiters, serving a freshly-mixed array of trend-setting cocktails direct to wherever you happen to park your own little seat. Try a fruity 'Virgin Redhead' pre-boarding!