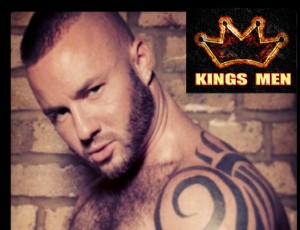 justinkingsmen.com  is a unique new porn studio created by Porn Star Justin King. With over 35 films under his belt Justin is the first Porn Star to leave the professional gay porn industry and enter the world of 'reality porn'
Justin started his porn career in 2009 working with top UK studios such as Men at Play, UK Naked Men and AlphaMale Studios.
His tattooed, muscular and hairy frame combined with boyish cheeky looks, soon caught the attention from the American Studios and in 2012 Justin started shooting in LA with Titan Men and CockSure Men among others.
At the 2013 Hotrods British Gay Porn Awards Justin was awarded the 'Best Bottom' of the year award and performed live on stage as various HustlaBall events around the World.
With four ye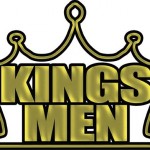 ars' experience shooting porn and another five years in the event industry 'Justin Kings Men' really does create a new erotic genre – 'theatrical porn'!
Armed with his creative camera crew Justin only shoots with real men and not your regular porn star – resulting in edgy, gritty, shocking and outrageously horny films!
And a unique first: 'Justin Kings Men' asks the fans what they want to see on screen! The interactive website option allows fans to dictate how each shoot turns out – what models are paired together, what positions are acted out and who Justin shoots with next!
Alongside the numerous hot solo and duo shoots on the website, 'Kings Men' launches its first mini porno series '7: KING OF SIN', a wild sexual ride into the world of fetish, theatre and fantasy.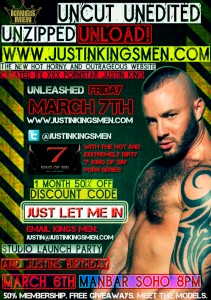 Follow Justin as he explores each of the 7 Deadly Sins. 'GLUTTONY' 'WRATH' 'ENVY' 'SLOTH' 'GREED' 'PRIDE' AND 'LUST', each scene more shocking and tantalising than the one before, bound to blow your mind! And your load!
Watch Justin as you have never seen him before…right until the extreme final scene that will leave you questioning how far you will go to get that ultimate orgasm.
Teamed up with the ultimate sinners 'EXPECTATIONS' and 'HAWT PHOTOGRAPHY' this is one porno series that has the ability to reinvent gay porn!
7 Shocking scenes – 7 Sexed-up sins – Watched separately or together to form one hell of a DVD!
LAUNCH PARTY AT MANBAR SOHO
On March 6th 'Justin Kings Men' hold the Studios Launch Party at ManBar Soho (75 Charring Cross Road) from 8pm.
It is also Justin Kings Birthday so expect the event to be explosive!
Justin King will host the event with porn models from the studio and industry in attendance.
Free Exclusive Giveaways include: 'Discount Membership for every customer on March 6th and March 7th', 'Five free year memberships to give away' '7: King of Sin DVD Giveaways'