BLACKPOOL PRIDE TO LAUNCH WITH RAINBOW WEEKEND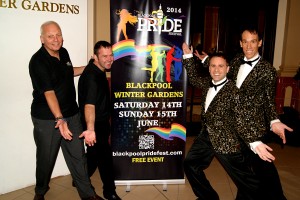 Blackpool Pride Festival 2014 will officially be launched on Friday 28th February with a fantastic event which will begin the countdown to this year's Pride Festival.  The Launch Party will take place at Viva, Blackpool's newest entertainment venue and feature entertainment from a whole host of acts. 
The Launch Party will be hosted by Leye D Johns with Phil Jefferies & The Viva Showgirls.  Fantastic entertainment on the night will be provided by Tom McLeod, Jennifer Ball, Emma Wright, Dominic Creighton, Bonnie la Blue, Brandy Babysham & DJ Pudsley.
Following the Launch Party, all of Blackpool's LGBT venues will come together to hold the resort's very first Rainbow Resort Weekend from 28th February – 2nd March for a weekend of fun and partying, which will help to raise funds for the Blackpool Pride Festival.  Venues taking part include The Flying Handbag, Peek-A-Booze, Kitty's, Mardi Gras and Kaos.  Other bars and venues supporting the event include The Galleon, Lucy's@Tobago, Ma Kelly's North and Wet Wet Wet sauna.
Shaun Pickup, Chairman of Blackpool Pride Festival, comments, "It will be great to see Blackpool's fantastic LGB&T venues coming together for the Rainbow Resort Weekend.  This weekend and the Launch Party at Viva means that Blackpool Pride Festival will have a fantastic start to 2014 and we hope everyone will support us."
Tickets for the Launch Party at Viva cost £7.50 per person, including a welcome drink, or £150 for a table of 10 including a table buffet and 2 bottles of wine.  
To book tickets, please email Shaun Pickup at chair@blackpoolpridefest.com or contact him on 07736 849162. alternatively go to the Viva website.
For more information about Blackpool Pride Festival 2014 and to see what else is happening, visit our website.