Ten things to remember for your next blowjob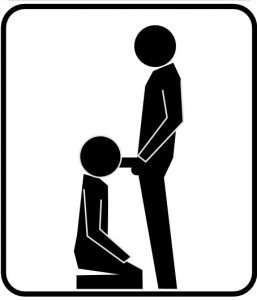 Teeth
It would seem inevitable that if you are going to stick something in someone's mouth the first obstruction is going to be teeth. At some point you are going to feel those pearly whites grating and grazing on your prize asset and its best if you get someone who is experienced and who knows how to protect that sensitive pole as he brings you to climax.
For the novice blowee… take time to practice – your efforts will be rewarded and received gratefully.

Going too fast
Some guys enjoy a quickie, but unless they're in a hurry to get back to work or back to their partner, most men like to savour the experience of getting their cock sucked. So don't rush them. It's not a race to see how fast you can get him to spurt. Take your time and make it last. Concentrate on different parts of his penis, or his balls, then go back to basic sucking and stroking. At the end of a luxuriant BJ session, he'll blow a much larger, more satisfying load.

Sucking too hard
Hoovering him like a Dyson may seem like a good idea in theory, but there's a wrong way to do it. Don't fasten your mouth around the head of his cock and suck like you're trying to get a triple-thick milkshake though a straw. Guys' dickheads are the most sensitive part of the penis, let your tongue do the work. 
Crushing his bollocks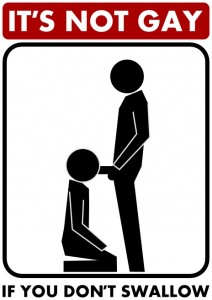 Don't grab his balls and squeeze like you're trying to crack walnuts. This is a move you want to pull on a would-be rapist, not a guy you're trying to get off. It's painful. Many guys like to have their sack rubbed, licked, or gently tugged during a bj. You can even take a break from sucking his cock to take one or both of his balls into your mouth. But don't yank on the family jewels, and don't put them in a vice grip… unless that's what he's into.

Spewing and gagging
Throwing up while giving a bj is definitely a turn-off, although sometimes this happens to the most well-intentioned cocksuckers. What happens is they get over-enthusiastic, take the cock too deep or hard into their throat, the gag reflex gets triggered, and then it's all over. Or once the cum starts hitting the back of  their throat, things start flowing the wrong way. Don't try to deep throat on your first bj. Everyone will be sorry. Practice first on dildos to get your gag-reflex under control. Or just work up to it at your own speed.
Remaining immobile
Putting his cock in your mouth and then doing nothing is as bad as overdoing it. Most guys don't want to feel like they're face-fucking a cadaver. You need to work it at least a little. A total lack of effort or enthusiasm on your part can really kill the moment. If you don't know what to do with your tongue, at least bob your head. After a while, he may want to take a more active role and have you relax while he fucks your mouth, but you need to give him a little encouragement to get him aroused.
Not using enough pressure
Licking his dick like it's a lollipop may be fun to get warmed up, but then you have to get down to business. Use a firm (but not too firm) hand to work the shaft of his cock, while you get your mouth all over his knob and caress it with your tongue. A moist hole maybe nice but a bit of pressure is needed to fulfil the deed.
Spitting
Most guys want you to swallow and think that a bj really isn't complete until his load goes down your throat. The only exception is if he gets off more on spraying it on your face, pecs, or somewhere else. If you really don't want to swallow, this can be an acceptable compromise. Symbolically, swallowing shows that you accept him and his manly essence fully. Although we can't endorse unprotected bodily fluid exchange in any form, if you happen to be giving an unprotected blowjob (i.e., without a condom) and you end up with his spunk in your mouth, do not retch his cum into a wastebasket in front of him. If you really feel you must spit, do it discreetly into a towel or tissue.
Dry mouth
A good bj involves a lot of saliva. Don't be afraid to get a little sloppy and drool on his cock. If your mouth is dry from nervousness or whatever, there will be too much friction and stickiness to give good head. If your mouth is dry, drink some water and rinse. Try to work up a good mouthful of spit before you go down. Suck on a strong mint before you start and give him cooling bj that he'll remember.
Stranglehold
Don't grab his dick like it's a snake you are in a struggle with, it may want to spit at you but you're in charge. Watch you man's face and see if what you're doing is pleasing or agonising and make appropriate alterations for the best effect.
A blowjob is one of the most enjoyable sex acts… practice makes perfect and it will always be appreciated if you can master this fine art.