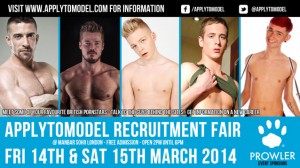 The first Prowler Gay Porn Awards event takes place on Friday 14th March, with the biggest concentration of gay porn stars ever assembled in the West End.
The list of categories awarded includes Best British Porn Star, Best British Website, Best British Scene, British Fetish Film of the Year, British Fetish Star of the Year and International Star. It will also see the prestigious Prowler Lifetime Achievement Award to be presented by Millivres Prowler (MPG) CEO Simon Topham.
The awards will be hosted by leading British based porn stars including Paddy O'Brian, Issac Jones, Paul Stag and Scott Hunter. A plethora of hot stars will be attending the event, including Dean Monroe, J.P Dubois, Sam Barclay, Adam Dacre, Darius Ferdynand, Luke Desmond, Reece Bentley and Justin King.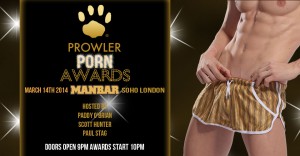 These are the first porn awards with which MPG have been involved and Topham commented: 'MPG is at the centre of gay porn in the UK; we are a producer, distributor and retailer and have a unique reach to the gay community via our leading media brand, Gay Times. We felt that we wanted to bring together the gay adult community and recognise that London and indeed Britain are now very high profile centres of international talent. It was unimaginable 13 years ago, when gay porn was finally legalised, that the industry would have blossomed to what we are experiencing today. Many big companies from around the world now recognise that because London is the most international and diverse major city in the world, it is also the place the hottest gay men from all around the world live and work. We want to recognise the talent that is now the British gay porn industry'.
MPG teamed up with Manchester based producer and online business Twisted XXX Media (TXXXM) to organise and bring about the awards and stage the first gay porn 'ApplyToModel Recruitment Fair' at the same Central London venue, Manbar (in London's Charing Cross Road) during the day, on Friday 14th March and Saturday 15th March between 2 pm and 6 pm.
The Recruitment Fair is a chance for those interested in entering the industry to have access to those who know the business and can offer jobs within the adult industry – as porn stars, cameramen, photographers, editors, directors and writers. It is free of charge, open to any one 18+ and is a chance to speak directly to representatives of the top British companies, including Prowler, Euroboy Eurocreme, Boynapped, Hard Brit Lads, Alphamales, Scot XXX, Justin Kings Men and Blake Mason.
TXXXM CEO, Ben Willis commented, it is a huge privilege to be working together with MPG to deliver the ApplyToModel Recruitment Fair and Prowler Porn Awards. Over two days these events bring together every aspect of the gay porn industry, the unique recruitment fair to showcase our vibrant, diverse and professional British industry alongside a star studded evening of awards. For the very first time we are able to focus on the incredible talents that make Britain's gay porn landscape internationally renowned. This is an annual event in the making that all at TXXXM and ApplyToModel  are extremely proud to be at the heart off.
The Fair will also be hosted by top British stars and it will also feature a HIV Testing booth provided by 56 Dean Street Clinic and important and useful information and advice for anyone thinking of working in the industry in any capacity.