'#HomoPromo': Gay equality art campaign piles heat on Russia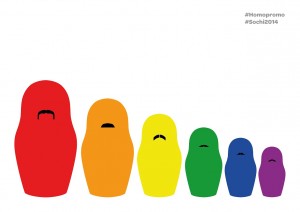 Online poster campaign, in support of Stonewall, launched to protest against Russia's controversial laws on homosexuality
Winning posters to be exhibited and auctioned off to raise money for Stonewall's work internationally
Creative people from all over the world invited to design and submit entries on

Tumblr

Campaign uses art to highlight gay oppression in Russia and elsewhere
Creative people from all over the world are being invited to join the protest against Russia's controversial laws on homosexuality by designing so called "#HomoPromo' posters.
The competition, which is supporting global lesbian, gay and bisexual equality charity Stonewall, is designed to maintain the pressure over the country's controversial gay legislation as the 2014 Winter Olympics comes to a close.
The #HomoPromo' competition has been developed by London-based creative agency Albion and will raise money to support the work of Stonewall internationally and will also support Russian human rights organisations.
The posters will be available to view online on an official #HomoPromo Tumblr account, with the best being exhibited and auctioned off at an event in London in March. All proceeds from the auction will support Stonewall's ongoing work to campaign for equality around the world and ensure that pressure is maintained beyond the immediate controversy around the Games.
An Albion spokesperson said: "As the Winter Olympics draw to a close in Sochi there is a significant risk that the media will lose sight of the widespread abuse of the basic human rights for the LGBT community in Russia. We wanted to create a campaign that protests Putin's Article 6.21, the anti "gay propaganda" law, by inviting the whole world to create posters to express much needed solidarity with the LGBT community.
"More importantly, it's our responsibility to continue to shine a crucial spotlight on a deeply disturbing situation to help support those fighting against it."
Richard Lane, a spokesperson for Stonewall, added: "It's vital that the world's attention remains on human rights violations even after the Sochi Games are finished. We're working closely with Russian activists to help them fight for their fundamental human rights and to continue raising awareness. Thank you for supporting this work and for being committed for the long haul."
The closing date to submit posters is 28th February. The best designs will be notified by email and invited to a charity auction event to be held next month.
Those that are interested to submit a design can do so through Twitter by tweeting @AlbionLondon #HOMOPROMO, send their posters to homopromo@albionlondon.com or submit through Tumblr.