Miss Nightingale – the new 1940s gay love story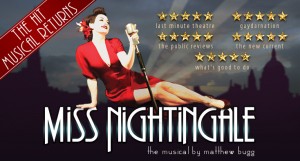 After a hugely successful tour of the UK and West End last year, Miss Nightingale – the musical by Matthew Bugg is back by popular demand.  The musical is a heart-warming and hilarious gay love story celebrating the world of sex, scandal and showbiz in the cabaret clubs of war-torn London. 
Miss Nightingale is unusual because not only is it an original British musical – not based on an existing film, book or collection of pop songs – but also because it is a mainstream musical with realistic gay characters right at the heart of the story.
It tells the story of feisty northern singer Maggie and her gay refugee songwriter, George, as they struggle to find their big break in the big smoke.  She longs for the bright lights.  He's hiding his sexuality in the shadows.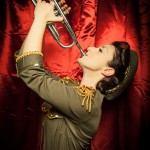 Everything changes when they are both picked up by wealthy man-about-town Sir Frank.  He needs a new act for his nightclub and with George's help transforms Maggie into the satirical music hall star 'Miss Nightingale'.  Her outrageous costumes, saucy songs and scandalous love life make her the talk of the town.  But out of the spotlight the secret romance between the two men proves far more devastating than The Blitz, at a time when being gay was not just illegal but seen as dangerously unpatriotic.
Miss Nightingale f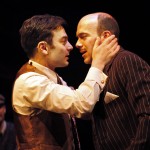 eatures a cast of top actor-musicians including Tomm Coles (Sunset Boulevard, Fiddler on the Roof) as Sir Frank, Harry Waller (Sondheim's Saturday Night, The History Boys) as George, and Jill Cardo (Carnaby Street) as 'Miss Nightingale'.  From hilarious tongue-in-cheek cabaret numbers to beautifully tender ballads, Bugg's critically acclaimed songs wonderfully capture the spirit of the 1940s.  Miss Nightingale is a feel-good night out full of love, laughter and the lust for life.
It is written by award-winning theatre composer Matthew Bugg.  His work has been heard in theatres across the UK and in the West End.  His recent touring and West End productions includes: Cirque Berserk, Black Coffee, Volcano, Barefoot in the Park, Go Back for Murder, Quartet, Some Like it Hotter, The Secret of Sherlock Holmes, and Murder of the Nile.
Discover more about the show visit www.missnightingale.co.uk    or @Nightingale1942:
Thu 27 Mar – Sat 5 Apr, The New Wolsey Theatre, Ipswich 01473 295 900/ www.wolseytheatre.co.uk
Thu 10 Apr, Cast, Doncaster  01302 303 959 / www.castindoncaster.com
Fri 11 & Sat 12 Apr, MAC, Birmingham  0121 446 3232 / www.macarts.co.uk
Mon 14 – Sat 19 Apr, Clwyd Theatr, Cymru 0845 330 3565 / www.clwyd-theatr-cymru.co.uk
Thu 24 – Sun 27 Apr, City Varieties, Leeds  0113 243 0808 / www.cityvarieties.co.uk
Mon 28 Apr – Fri 2 May, Library Theatre, Sheffield  0114 249 6000 / www.sheffieldtheatres.co.uk
Sat 3 May, Victoria Theatre, Halifax   01422 351 158 / www.victoriatheatre.co.uk
Photos: Simon Annand and Joe Armitage