Art with Character online, sexy and free.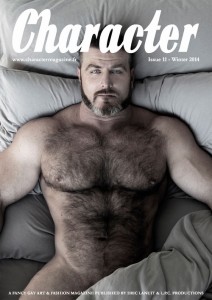 Now in its 11th edition, French art online magazine Character is a vision of Gallic flair that offers some quite fantastic artwork from some of the best artists from the USA, Spain, France , Belgium and the UK.
CHARACTER Issue 11 Winter 2014 features artists Some French Guy, Full Mano, Wim Beullens, Manolo Yanes, Paul Le Chien, Juan Castano, Mike Cabsinger, Romuald & PJ 2013, Fénix Diaz and Miguel Angel Reyes. They all work in different techniques and all have a different vision of gay men that make this online mag unique in its concept.
Past issues are also available, so log on and see for yourself the images that are; beautiful, amazing, stunning, hot, sexy, naughty, kinky, glamorous, full of novelty and Character.