Bent Fiction – Satin Sheets by Les Lea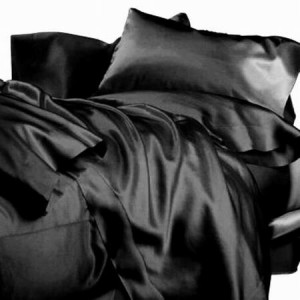 He led me to the bedroom and flicked a switch, the subdued lighting made everything glow, especially the bed, which was all shiny metal chrome, draped in black, highly reflective satin sheets.
In all my 18 years I had never seen a bedroom looking so fantastic. I mean, I'd seen images in magazines of film star's places but never, you know, a normal person having such a stylish place to sleep. My room at home was shared with my younger brother and he had posters of pop and WWF stars on his side of the room, while I tried to be a bit more grown up, although I still had a cinema poster for Star Trek on mine. Our two single beds always looked like a bomb had hit them and mum always complained that we should keep it all tidy. Anyway, here I was, newly out and embarking on my first gay sexual experience and although I was very nervous, the seductive nature of Thomas (the man whose room I was now in), my own horniness meant that I couldn't wait to climb between that silky fabric. As he went off to the bathroom to shower and stuff, I stripped and eagerly climbed into bed. In my head I thought I'd look cute, adorable and sexy when he re-entered the room and saw me lying there… my pale body sensuously draped in black satin.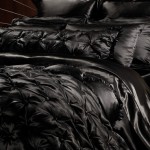 I suppose I'd better tell you a bit about me and Thomas. Well, he's 30, very good-looking, got a wicked sense of humour and I've been seeing him for three months. We've kissed and cuddled quite a bit, and I've rubbed myself off against him several times but I decided I wanted to take things further. So, nervous though I undoubtedly was, I was also excited about doing it for the first time. I had no doubt that Thomas would be a fantastic lover… well; I hoped he would be, and his bedroom just convinced me the man had superb taste… so that meant me as well.
It felt brilliant snuggling down amongst those soft silky sheets with huge satin pillows and I was instantly hard with all the luxurious satin touching my skin and sending waves a sensual pleasure through my young body. I could have spent the night just humping the bedding. I can't tell you how highly charged I was by the sexy nature of the sheets and the hyper stiffy I was sporting, which had snugly wrapped itself in more satin. I felt like I was just one rampant carnal creature ready to do whatever was needed to fulfill this building desire that had overtaken my body.
When he returned I was hugging one of the pillows under my stomach pretending to be shagging it. Slowly he inched the sheet, little by little, down my back, revealing my slim hips and pale bum. He gazed in amazement at the contrast of black sheet and my white skin, saying how much the view turned him on. I wriggled and hoped it was even more of a turn on for him and I felt his hot breath and even hotter tongue delve into my boyish crevice. Jesus, that was something else that was new and I writhed in increasing pleasure as his persuasive tongue went to work. Later, as I humped the pillow, he sunk his thick, veiny and newly shaved cock deep into me. My body was gripped with even more sensations and although at first I was hurting it soon passed and I joined in his love making rhythm. He was in no rush and knew from my reaction that I was enjoying this fantastic new experience, He took forever, slowly plunging deep into my hole with long deliberate strokes, teasing my arse lips to grip and loosen as he fed his 9" into me again and again.
I spend my entire weekend now at Thomas's place and we shag about 99% of the time. He says he needs to fill me up for the rest of the week when I can't see him and I've found something more fun to do than watch Star Trek.