GFSN LAUNCHES LGB&T FOOTBALL FANGROUP COALITION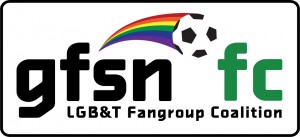 The Gay Football Supporters' Network has formed the GFSN Fangroup Coalition (GFSN FC) to act as an umbrella organisation for lesbian, gay, bisexual, and transgender (LGB&T) football supporters' clubs throughout the United Kingdom. The initiative is supported by Kick It Out, Stonewall, and major UK football clubs. The Coalition is proud to note that its formation occurs during the Football v Homophobia Month of Action.
The founding members of GFSN FC are:
•Gay Gooners – the official LGB&T fangroup of Arsenal FC.
•Proud Canaries – the official LGB&T fangroup of Norwich City FC (with Stephen Fry as honorary president).
•Canal Street Blues – the official LGB&T fangroup of Manchester City FC.
In addition, Tottenham Hotspur FC, Sunderland AFC and Liverpool FC have all agreed to the formation of LGB&T fangroups and are working closely with GFSN FC to launch them in the very near future. The GFSN is calling upon interested supporters of any UK team to make contact through their website if they are interested in seeing an LGB&T fangroup at their club.
The aims of the coalition include:
•Providing guidance and advice to other LGB&T fans interested in setting up a fangroup for their club and a support network for fangroups themselves.
•Creating knowledge-sharing resources and regular meetings.
•Advising football clubs on how to support LGB&T fangroups.
Leviathen Hendricks, Coordinator of the new GFSN Fangroup Coalition, said:
"The focus is often on the players and whether an out gay player would be welcome in the game, but it is important as well to ensure that fans are also welcomed by the football clubs to a safe and tolerant atmosphere. LGB&T fangroups can make a huge contribution to creating this atmosphere and we are delighted to be launching the GFSN Fangroup Coalition today."
Roisin Wood, Director of Kick It Out, said:
"The formation of the Gay Football Supporters' Network's Fangroup Coalition (GFSN FC) is a hugely positive step towards making football a more comfortable and welcoming environment for the lesbian, gay, bisexual, and transgender (LGB&T) community. The coalition will allow LGB&T fan groups to exchange ideas on how to overcome barriers facing the community within football, and Kick It Out looks forward to LGB&T supporters from across the country engaging in the initiative."
Alice Ashworth, Policy Officer at Stonewall said:
"Too many football fans continue to hear anti-gay abuse on the terraces week in, week out. Supporters' groups are a great way for clubs to show their support for gay fans and make a visible stand against homophobia in our national game.'
Arsenal Football Club's Communications Director, Mark Gonnella, said:
"Through the Arsenal for Everyone initiative the Club strives to create an environment where everybody connected with our Club feels an equal sense of belonging. We were delighted to support the foundation of the Gay Gooners, an LGBT group of dedicated Arsenal fans, and drive an initiative where we could really make a difference with the Arsenal for Everyone scheme. It's exciting to hear that it's acted as a springboard for other gay supporters groups across football. By working together we can create the environment where football is a welcoming place for everyone."
GayGooners founder, Stewart Selb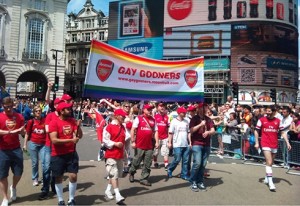 y, said:
"We've seen our membership grow from eight at the time of our official launch at Emirates in February 2013 to over 30 in June when we marched in the London Community Pride parade behind the Arsenal banner as the first professional club to ever be in London Pride. Today we have 120 members with new applications coming in all the time."
Di Cunningham of Proud Canaries, said:
'The first and so far only top level out gay footballer was Justin Fashanu, who began his career 35 years ago at Norwich City FC. I'd like to think he'd be proud to see his club undertake hosting an LGB&T fans group. The most effective support is given by fans who feel safe and respected. We look forward to sharing knowledge and experience through GFSN FC."
Lisa Eaton, MCFC Supporter Liaison Officer, said:
"Manchester City Football Club is committed to promoting equality of opportunity, diversity and respect across all its activities. We have worked with the Gay Football Supporters Network for a number of years and welcome the formation of GFSN FC."