Gay Soldier James Wharton receives City Freedom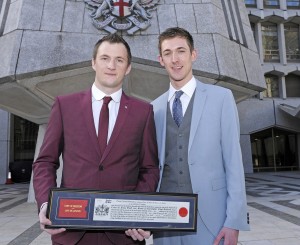 James Wharton, one of the first openly gay soldiers in the British Army, has received the Freedom of the City of London in recognition of his work in the lesbian, gay, bisexual and transgender (LGBT) community to tackle homophobic bullying in secondary schools.
Lance Corporal Wharton joined the Army in August 2003, serving in the Blues and Royals (Household Cavalry), and spending seven months' active service in southern Iraq, later serving under HRH Prince Harry to train troops at British Army's facility in Alberta, Canada. He entered into a civil partnership with his boyfriend, Thom, and was the first 'out' gay soldier to appear on the front cover of Soldier magazine. He left the Army in April 2013 and in the months following, he wrote his best-selling autobiography, Out in the Army.
Speaking before the ceremony, Lance Corporal James Wharton said:  "I'm honoured to be awarded such an historic accolade and I accept the Freedom of the City with great humility. I was particularly encouraged to see Fiona Woolf, Lord Mayor of the City of London, launch the 'Power of Diversity' programme in January, which underlines the City of London Corporation's commitment to putting the City at the forefront of equality and inclusion. I find it incredible that, in the space of 45 years, we have gone from criminalising gay people to awarding and recognising the contribution that we make to British society. However, there are still too many governments and societies across the world that are actively moving in the opposite direction with regards to gay equality, which should motivate us all, as a modern society, to continue the fight for equality."

The Freedom of the City of London is believed to have begun in 1237 and enabled recipients to carry out their trade; and today, people are nominated for, or apply for, the Freedom, because it offers them a link with the historic City of London and one of its ancient traditions. The Freedom is also offered to individuals by the City of London Corporation to help celebrate a significant achievement, or to pay tribute to their outstanding contribution to London life or public life. However, many of the so-called traditional privileges associated with the Freedom, such as driving sheep over London Bridge, no longer exist.
Photo: © Chris Jepson / www.ChrisJepson.com