Book Review – The latest from Armistead Maupin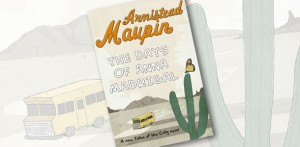 The Days of Anna Madrigal
For many, especially in the States, the Tales of the City series of books has been a history of the modern gay movement. The series of 'tales' has taken the reader on a voyage where we have almost invested as much love and commitment to each character, as we would our own friends. Each novel has been eagerly awaited and is guaranteed to be an instant hit.
In this the latest tale we find the frail, 92 year-old Anna Madrigal committed to the concept of journeying back into the mid-States to the whorehouse where, as a teenage boy, her story first began. She has, over the years, and with the fellowship of her band of tenants and friends, become quite an icon in her own right, which reaches its peak at the art event at Nevada's Black Rock Desert called Burning Man.
Of course, this is an Armistead Maupin book, so it is wonderfully written with character after character and coincidence upon coincidence colluding to make for an emotional journey that fans of this series of books, will applaud, laugh and weep about in equal parts.
Out Now – Doubleday