£500,000 fund to help male victims of rape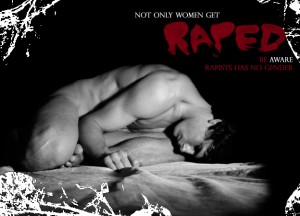 It's a crime that has gone under-reported for years but now, the 'taboo' subject of male rape and abuse is set to receive funding to provide support to victims.
TV soap Hollyoaks has recently featured the subject and that has raised awareness in the public domain.  Meanwhile, the latest set of crime figures showed there were 2,164 rapes and sexual assaults against men and boys aged 13 or over recorded by the police in the 12 months to last November. However, in a recent crime survey it was estimated that 72,000 men a year are actual victims with the vast majority of offences going unreported.
The government intends to break the silence on this 'taboo' subject by providing a fund of £500,000 to help with counselling and advice to male victims of this crime. The victim's minister, Damian Green, said the new fund would also help "historic victims" who were under 13 at the time. He said: "We believe around 12% of rapes are against men. Yet many choose not to come forward, either to report the crime or seek the support they need. I am determined to help break the silence on a subject still seen as a taboo."

Duncan Craig of Survivors Manchester, which specialises in helping male survivors of rape and sexual abuse, welcomed the new funding. He said: "In the past, there has not been enough support in the UK for male victims of sexual violence. But in the future I would like to see both the government and society begin talking more openly about boys and men as victims and see us trying to make a positive change to pulling down those barriers that stop boys and men speaking up. This funding will help to raise awareness of the issue and ensure that male victims are no longer ignored."
The launch of the fund comes as the justice ministry starts a social media #breakthesilence campaign to encourage male victims to speak about their experiences.
https://www.survivorsuk.org/     Helpline: 0845 122 1201 Monday & Tuesday 7- 9.30pm, Thursday 12-2.30pm