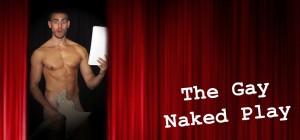 The Gay Naked Play is a delicious satire on artistic compromise.
With their classic plays, lofty ambitions and their own mid-town theatre, the Integrity Players have it all – except an audience! Performing to ten souls a night, the money's running out, fast.
Enter New York's most successful gay theatre team, and a young male porn star with dreams of being an actor. Can they turn the appalled Integrity Players' fortunes around, with their fabulously trashy new homoerotic stage version of Mel Gibson's The Passion of the Christ?
As rude and raucous as the plays that inspired it, The Gay Naked Play is a show that has its cock and eats it.
14 January – 16 February 2014
Above the Stag Theatre: Arch 17, Miles Street, London SW8 1RZ www.abovethestag.com