MANCHESTER PRIDE FLIES HIGH WITH CONCORDE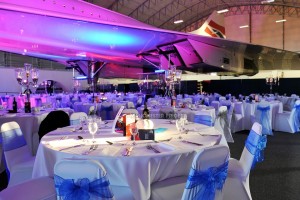 Photos: Dawn Kilner/ Manchester Pride
Flying high from the success of the inaugural Supersonic in April last year,  Manchester Pride is set to return with its exclusive event in the Concorde Hangar at Manchester Airport.
Having set the bar high with a spectacular event, Supersonic is back on Friday 11th April 2014 and this time round it promises to build on the success of the last.
2013's much lauded performance by BRIT award-nominated English pop rock band The Feeling, which was reported as the highlight of the city's social calendar, was enjoyed by all who attended including David Gest and stars from Hollyoaks and Emmerdale.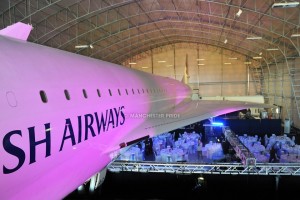 Entertainment in 2014 will come from a star-studded line-up which will include an exciting headline act, support artists and DJs who are sure to keep the party going until the early hours. In addition, the red-carpet gathering will include a sparkling drinks reception, a VIP tour of the Concorde airline, fantastic gift bags and a four-course dinner with complimentary wine. All this will take place amongst this highly iconic setting.
Mark Fletcher, Director at Manchester Pride said "Supersonic 2013 was a great success. We were overwhelmed by the response from all who attended and we hope to build on this success."
"The evening provides an opportunity to see some outstanding entertainment in an unconventional space, whilst supporting a great cause."
This unique event exists to raise money for the Manchester Pride Community Fund.  Integral to creating and sustaining a vibrant community, this fund provides crucial support for lesbian, gay, bisexual and transgender and HIV charities and organisations in Greater Manchester.
There are a limited number of tickets available for the event, individual tickets can be purchased for £77.50 and includes a drinks reception, dinner, coffee and entertainment. Tickets do not need to be purchased for an entire table as individual bookings are welcome.
A number of enhanced packages are available for groups and businesses.
Further details of the entertainment programme will be announced in the run-up to the event.
To book or find out more information about this sparkling event visit https://manchesterpride.com/supersonic
There's much more to Manchester Pride than the Big Weekend and, since 2003, the festival has grown to include Pride Fringe which encompasses a series of art, culture, heritage, debate, sport, music and film events celebrating the great diversity of the LGBT community.  2013 saw the introduction of Supersonic, A Manchester Pride charity dinner event held underneath the wings of Concorde at Manchester Airport.
You can follow the charity on Twitter @manchesterpride.