Holyfield Row – being gay "ain't normal"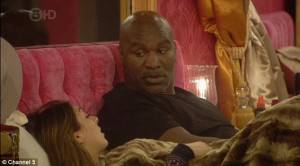 Photo: Channel 5
Well Celebrity Big Brother got off to an uncontroversial start when former Heavyweight Boxing Champ, Evander Holyfield expressed his opinion that being gay "ain't normal" and can be "fixed".
He was in conversation with fellow contestant Luisa Zissman (?) and talking about openly gay sports stars. She thought it was a shame there wasn't very many out because it was normal, whilst he was of the opinion "…that ain't normal," and argued that: "It don't make no difference. If you're born and your leg was turned this way, what do you do? You go to a doctor and get it fixed back right."
I'm just wondering if this had been overheard by a gay contestant, and he took the Champ to task by quoting the Bible and telling him that 'slavery' was God's will, how the dumb ass would have reacted. Sadly, we'll never know because the boxer has been reprimanded for his views (they go against the fine values of this moral show) and the broadcasting watchdog is investigating the item. So, we'll never get the type of debate this sad show desperately needs.
Meanwhile, the ever entertaining Boy George waded in to Holyfield on Twitter saying: "Shame, I had such admiration for Mr Evander Holyfield, he seemed dignified and I was sure he was a cool, smart, giant!" He further tweeted: "At customs there should be a huge sign! Welcome to Britain, racism, sexism, homophobia and bad hair are not tolerated!"
Celebrity Big Brother is currently on Channel 5 (five) every night from 9pm