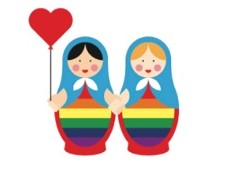 Thousands of Swedes sing Russian national anthem in the Stockholm Olympic Stadium, in support of Russian LGBT people. A film project, called LIVE AND LET LOVE, is a Swedish contribution to the debate concerning LGBT, human rights and the winter games in Sochi, Russia.
In summer 2013, newspapers and TV news programs, more and more frequently, told the stories of how the situation for LGBT people in Russia had become increasingly frightening, dangerous and desperate. Young teens had been abducted, forced to perform fellatio on bottles, being filmed and then published on YouTube, to be ridiculed and laughed at publically. Even though their perpetrators were showing their faces in the videos, the Police did nothing. The public opinion in Russia is moving towards more discriminating for LGBT people, and the Russian legislators are too. A law that prohibits "gay propaganda" was passed in the Duma. In effect this means that schools are not allowed to teach about homosexuality, gay couples can't even hold hands publically without facing the police enforcement or being abused by citizens. Freedom of speech is gone. People are being forced to live in the closet.
Other laws were planned, but not passed yet, such as the one where the Russian state is given the right to remove a child from its home, if the parents are not straight. We who made the film LIVE AND LET LOVE were all saddened and upset about what was happening and decided to protest. The Russian Anthem is one of the world's most beautiful anthems, filled with pride, melancholy and strength to show the true sentiment of the Russian people. Although not every Russian feels proud when they hear it.
For many Russians the song has been a symbol of oppression. However, the lyrics of the song were changed in year 2000 and in 2009 a poll showed that 56% of respondents felt proud when hearing the anthem, and that 81% liked it. Still there are many people of Russia, who are not able to sing the song with pride, among them many millions of LGBT people. It is their anthem too, but the state is criminalizing their lives.
Being a singer as well as a choir conductor Sean Kelly, the initiator of the project, suggested protesting using the Russian National Anthem, making it a proud song for people of all colour and orientation. Singing for those who can't.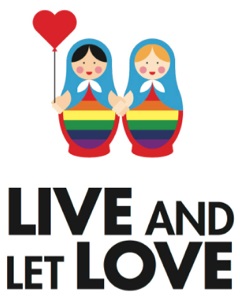 A website was set up with lyrics, sheet music and mp3-files for people to practice to. Choirs of Stockholm were contacted and asked to join. A Facebook event was created that thousands of people liked and shared, ending up with 2000 people joining in the Olympic Stadium of Stockholm on the 6th of October 2013. (Where the Olympic summer games were held in 1912). The song was filmed and has been edited to a short film of 4 min.
In the film, people of all colours and orientation are gathering. We see gay couples, straight couples, best friends and rainbow families. And the thousands of allies to the idea that being LGBT is perfectly normal and should be embraced fully by the people.
The rainbow flag is not forbidden in the Olympic Stadium of Stockholm; on the contrary, and we were more than welcomed by the City of Stockholm, owner of the Stadium. The LGBT issue has finally become an issue of human right and since the LGBT community percent wise is so small, it is absolutely necessary to have allies who will fight for the human rights for LGBT. This is happening in many countries, which is great news, however many countries are moving in the opposite direction. Russia being one of them.
People around the world are encouraged to create their own rainbow version of the Russian National Anthem and publish on YouTube. The anthem becomes a rainbow anthem.
About Gay and Lesbian Stockholm
Stockholm is this year's hottest citybreak destination. Just a short flight away, this fabulous city is stylish, fun and has a world of options for gay and lesbian visitors.
To get the inside track on what's hot in gay and lesbian Stockholm, LIKE us on facebook or subscribe to our blog today.