SOCHI OLYMPICS ANTI-GAY LAWS : GLOBAL OUTCRY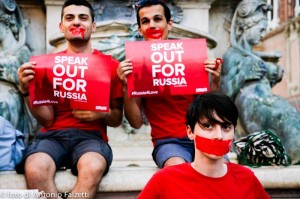 All Out – the global movement for love and equality – has  announced a series of online and offline actions to support Russian gays and lesbians and call for the end of Russia's anti-gay laws violating the spirit of Olympics Charter non-discrimination principle, Principle 6.
Principle 6 of the Olympic Charter states that discrimination is incompatible with the Olympic movement. The Principle 6 campaign, launched by All Out and Athlete Ally, uses the language of the Charter to give Olympians and Olympic sponsors a way to speak out against the wave of anti-gay violence and discrimination in Russia without breaking Russian anti-gay laws or violating the Olympic ban on political speech.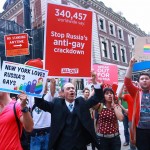 Last September the first Global Speak Out for Russia organized by All Out took place in more than 34 cities in 21 countries. Since 2011, more than 400,000 All Out members have helped spark the global outcry against the anti-gay laws by signing and sharing All Out's petition, watching All Out's viral video #LoveAlwaysWins calling on the IOC to speak out, and even going to Switzerland to meet with the IOC
Principle 6 and Global Speak Out on February 5th: All over the world, two days before the Opening Ceremony, All Out members will organize or join peaceful demonstrations to call for the end of the anti-gay laws, and for more Olympians and Olympic sponsors to support Principle 6. Olympians and global citizens can also show their support by buying and wearing Principle 6 gear from pro-bono supporter American Apparel available online or in shops around the world.  After covering costs, proceeds from the sale of gear will go to support Russian LGBT groups.
Principle 6 and Olympians: Already nearly 50 Olympians, including the entire Australian Bobsled team, and key Russian LGBT activists have joined the Principle 6 campaign co-launched by All Out and Athlete Ally.
"President Putin has shown he's worried that the global outrage about anti-gay laws could ruin his Olympics", said Andre Banks executive director and co-founder of All Out. "Together with Olympians, global leaders and citizens, we must remind the world of the Olympic principle of non-discrimination and push Putin to end the anti-gay laws before the Olympics start."
Find below key facts on the global outcry against the anti-gay laws in Russia, and a detailed timeline of All Out's work since 2011 at allout.org.
Images: Antonio Falzetti & Syd London