Stephen Fry – a man of influence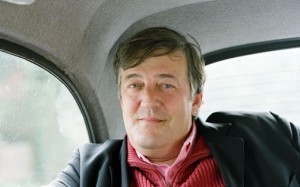 Photo: BBC
Actor, author, activist and a self proclaimed nancyboy Stephen Fry has been named the UK's most influential man of 2013, topping a survey that polled over 40,000 males for the market-leading men's lifestyle site, AskMen.com
 The British polymath was shown considerable support by AskMen readers, typically aged 18 to 40 years old, following his vocal human rights campaign for a boycott of the forthcoming Winter Olympics in Sochi – because of Russia's new anti-gay laws. Alongside his high profile film, theatre and TV work, Fry's increasing social media influence sees him followed by an incredible 6.3m accounts on Twitter – almost four million more than Prime Minister, David Cameron – who fails to make this year's Top 49 list.
 Fry, the 56 year old from Norfolk, who first rose to fame in the 1980s beat Wimbledon champion Andy Murray into second place, who had another successful year on the court. In third place was Apple Inc.'s Senior Vice President of Design, Sir Jonathan Ive – who masterminded a bold new look for the operating system on more than 300m iPhones and iPads worldwide.
 For the first-time, the reclusive London-born brothers, Sam & Dan Houser made the list – due to the phenomenal success of their latest video game, Grand Theft Auto V which became the fastest-selling entertainment release of all time, selling almost 30m in its first 60 days on-sale this year.
 The top 10 also included the author of Game of Thrones, George R.R Martin, and the star of The Fifth Estate and Sherlock, Benedict Cumberbatch. British males also voted in their thousands for Bryan Cranston, the respected star of the critically acclaimed TV show, Breaking Bad.
Elsewhere, The Mayor of London, Boris Johnson was the most influential UK politician in 26th place, while Ed Miliband made the list at 46. Prime Minister David Cameron and Deputy Nick Clegg did not make the list.
 Mike Goldstein, Publisher, AskMen, said:  "Stephen Fry's influence has been recognised by our readers – he's used his position and massive social reach to raise awareness of Russia's questionable laws. As this year's list demonstrates – it's been a massive year for Brits internationally, with men like Sir Jony Ive and the Houser Brothers influencing society here in the UK and beyond."
For the full rundown, please visit the  AskMen.com Top 49 Most Influential Men – UK Edition 2013 microsite.          http://uk.askmen.com/specials/top_49_men/
 1)Stephen Fry
 2)Andy Murray
 3)Sir Jonathan Ive
 4)Sam & Dan Houser
 5)George R.R. Martin
 6)Benedict Cumberbatch
 7)Christopher Bailey
 8)Bryan Cranston
 9)Elon Musk
 10)Robbie Rogers
 11)Peter Dinklage
 12)Russell Brand
 13)Barack Obama
 14)Jamal Edwards
 15)Daft Punk
 16)Idris Elba
 17)Edward Snowden
 19)Peter Capaldi
 20)Ben Whishaw
 21)Calvin Harris
 22)Alex Turner
 23)Usain Bolt
 24)Peter Tatchell
 25)Louis Tomlinson
 26)Boris Johnson
 27)Armando Ianucci
 28)Robert Galbraith
 29)Pope Francis
 30)David Beckham
 31)Jamie Oliver
 32)Gareth Bale
 33)Harry Styles
 34)Prince William
 35)Rudimental
 36)Alan Rusbridger
 37)Gary Neville
 38)Steve McQueen
 39)Piers Morgan
 40)Kwon Oh Hyun
 41)Mo Farah
 42)Jimmy Anderson
 43)Mark Millar
 44)Jose Mourinho
 45)Agi Mdumulla & Sam Cotton
 46)Ed Miliband
 47)Ted Sarandos
 48)Paul Dacre
 49)Jay Z
 ********************************************************************************************