Snow fun? Hell Yer – European Gay Ski Week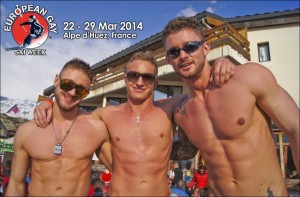 Last year, the 5th Anniversary of the European Gay Ski Week, in excess of 1000 people attended, representing 39 different nations.  European Gay Ski Week 2014, now has a line up bigger and stronger than many international gay festivals held every summer across Europe.
EGSW – Europe's Gay Winter Sports and Music Festival, continues as the biggest annual gay ski week in Europe and is returning to Alpe d'Huez from 22nd – 29th March.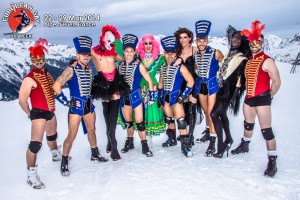 The snowy event has a broad and varied program which is open to everyone, whether an avid skier or a party animal who wouldn't dream of sliding down a mountain with planks strapped to their feet.  Around 10% of the guests are women, so some events are more specifically tailored towards them as well as towards the male contingent.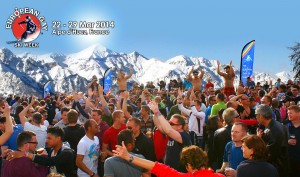 EGSW's aim has always been to create the perfect Winter Holiday, in a welcoming Gay and Lesbian environment. The guests come in all genders, shapes, sizes, ages and nationalities representing a broad mix of people; so you'll find introverts & extroverts ,dedicated skiers & boarders, novices & experts, party people & bookworms, blossoming youths  & interesting elders, all mingling together in a friendly fun environment.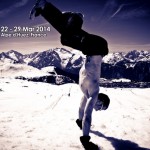 Alpes d'Huez is a vast sunny ski area with over 250km of pistes, suitable for all levels from beginners to experts. Alpes d'Huez is part of the Grande Galaxie Ski area with 1200 km of pistes across 5 ski domains in 2 countries. Your lift pass is valid across the entire ski area and EGSW operate a free shuttle bus between the ski areas.
The 2014 Events Program includes:
WE (Spain), LAB's (Paris), Rapido (Amsterdam), Trade (UK), GMF (Berlin), G I AM(Rome), HustlaBall (USA) Tonker (London) Bearpit Night, The Pool Party, The Welcome Party & The After-Hours
The DJ roster reads like a who's who of international DJs. Amongst those joining us this year are: BEN MANSON, CHRIS BEKKER, DJRW, MANUEL DE DIEGO, MANUEL ROTONDO, PAGANO, STEVEN REDANT plus many more…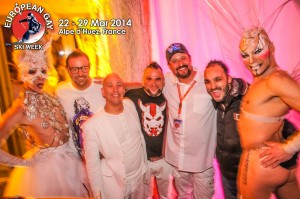 For the first time European Gay Ski Week will be holding "Launch Parties" across Europe, hosted by our various Club Brands for 2014. While a host of cabaret artists will be on hand to beguile and entertain.
Prices start from 239€ per person for the week, including the 7 nights' accommodation and free admission to all the events. For skiers prices start from 299€ including accommodation, lift pass and free admission to all the parties.
http://www.europeangayskiweek.com/