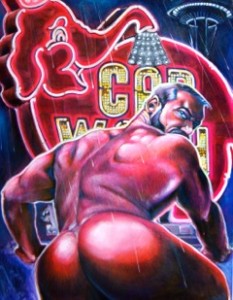 Canadian born, British bred, Christopher Charles North the prodigal son of two British artists – has recently returned to London to reclaim his UK heritage. Regular contributor and past jury favourite of the Seattle Erotic Arts Festival, Christopher is looking forward to showing his current collection of Nudes & Neon in his first UK exhibit.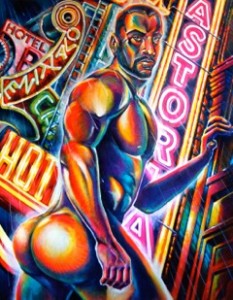 This will be an exhibition of prints from this series. These prints will be mounted on canvas and for sale.
Christopher's interest in the appropriation and re­-contextualisation of the male figure from pornographic sources is to underline the verisimilitude between today's men of porn to that of the mythological Greek Gods.
This series of 10 canvases utilises the lost neon from the Golden Age of Light of Vancouver and Seattle. Gigantic towering male figures are illuminated by these once cherished–yet now discarded–beacons of the past.
Manbar owner Chris Amos enthuses, "This marks the fifth art exhibition at Manbar and I am particularly excited by this one as Christopher's work is so striking. Think Tom of Finland in spectacular neon colour. He has really set the benchmark for us to showcase world class gay exhibitions at Manbar for 2014."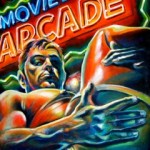 Christopher Charles North Exhibition
3rd December 2103 until 31st January 2014 
 Manbar, 79 Charing Cross Rd, London, Soho WC2H NE