Death, dysfunction and loneliness: Adrian Gillan enjoys the European premiere of The Lyons – the venomous dark comedy, with its fair share of gay characters, on at the Menier Chocolate Factory in London.
"A cross between Beckett, Orton and Albee."      Rating: ****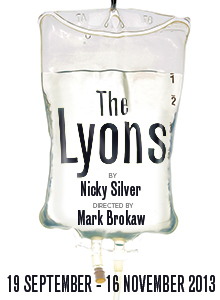 As Ben Lyons (Nicholas Day) lies dying of cancer in hospital, his long-suffering wife Rita (Isla Blair) is making plans for her future, and his two damaged-goods children – alcoholic Lisa (Charlotte Randle) and lonely gay fantasist Curtis (Tom Ellis) – drop by, to betray each other's secrets and unload tormented minds, as they are all eventually forced to at least attempt to create some kind of happiness beyond the family wreckage.
Nicky Silver's play opened Off-Broadway in 2011, ran on Broadway in 2012, and now gets its European premiere at the Menier Chocolate Factory inLondon. Apart from a highly-naturalistic cut-away scene at the start of the second act, the piece – otherwise set purely within the confines of a hospital room – feels like a cross between some Beckett-like absurdist 'waiting room'; an outrageously dark one-door Orton farce; and an incessant talking-heads Albee-on-acid mud-fling slang-match.
Whilst the characters are brazenly self-absorbed and predominantly unattractive, the pacey script, clear direction (Mark Brokaw) and energised ensemble performances successfully engage and entertain throughout to make you laugh and wince in equal measure.
Tall, dark handsome Tom Ellis plays gay loner Curtis with conviction, showing that gay folk can be just as hurt and horrible as anyone else; and his big second half scene with neighbour Brian – who he has been secretly stalking, and excellently played by an equally dishy Ben Aldridge – offers an exciting sequence of twists and turns, albeit culminating in a moment of not entirely convincing stage violence.
The two parents, especially, make suitable comedic mileage out of their Jewishness; and Katy Secombe delivers an effective ongoing cameo as the nurse, her brief appearances nicely punctuating proceedings like some character in Waiting for Godot, before administering a few final punch lines of her own.
Sure: the occasional American colloquialism or reference may fall a tad flat here in theUK; the script's multiple genres may disorientate you in places; and the final message or moral may lack appropriate gravitas, perhaps a tad too shallow and glibly won. However, the hot-house world of tortured suburban angst still sears powerfully through. Go suck and see.
The Lyons runs at the Menier Chocolate Factory, 53 Southwark Street, London SE1 1RU, until 16 November 2013. Tues-Sat at 8pm; Sat & Sun at 3.30pm. Seats from £25; 'Meal Deal' (2-course pre-theatre meal + show) from £33 (limited availability).
Book early for the Menier Chocolate Factory's Christmas show (22 Nov 2013 – 22 Feb 2014), its revival of Leonard Bernstein's glorious Candide, adapted from the novel by Voltaire!
Whether eating pre- or post-show (limited availability 'Meal Deal', see above), or just for the hell of it, don't miss out on the theatre-crowd-buzzing Menier Chocolate Factory Restaurant – offering great-value, comfort-with-a-twist food amidst relaxed, old-world oft-candle-lit ambience. Enjoy dishy waiters and a la carte or set menus, at tables either by the large street windows or on the raised central platform. Lunch: Tues-Sun, 12pm-3pm. Dinner Tues-Sat, 5.30pm-11pm.