Iris – Cardiff's LGBT Film Festival

Organisers of the 2013 Iris Prize Festival, which opens on Wednesday 9th  October, have confirmed that filmmakers from India, USA, Netherlands, Ireland, Australia, Norway and Germany are among the guests who will be attending the 5 day LGBT film festival in Cardiff.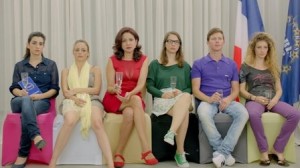 They open with a preview screening of CUPCAKES by festival favourite Eytan Fox which centres around a group of Tel Aviv friends who end up representing Israel in a Eurovision style competition. Preparations for the opening night, sponsored by Cardiff University, include a mini Eurovision style competition hosted by Jolene Dover with performances by Helena-May and  Rocket Joe Joe & The Old Time Bangers.
The serious side of the festival starts proper on Thursday 10th October with the first of 6 public screening of the 30 short films competing for the £25,000 Iris Prize supported by The Michael Bishop Foundation. The 10 strong International Jury, Chaired by LA based Kirsten Schaffer from Outfest will view the films with the public and competing film makers before reaching a decision.  Ten of the competing film makers have confirmed that they will be attending the screenings to introduce their films, including two guests who will have travelled from Australia!
The winner of the 2013 Iris Prize will be announced on Sunday 13th October during the sold out Iris Awards presented by Amy Lamé at Cardiff's Park Inn Hotel by Jeff Cuthbert AM,  Minister for Communities & Tackling Poverty. Awards will also be presented for the Best Feature Film sponsored by Martin Briggs, Best Actor and Best Actress sponsored by the London Women's Clinic and selected by Gay Star News.
The five day festival also includes nine of the latest gay and lesbian feature films, all enjoying their UK premiere or preview screening at the festival. Popular titles based on box office pre-sales include Interior: Leather Bar (dir: James Franco & Travis Mathews),  G.B.F. (dir: Darren Stein) and Five Dances (dir: Alan Brown).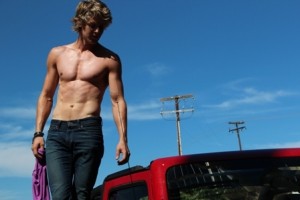 British films are well represented with the World Premiere of Vampires: Lucas Rising (dir: Jason Davitt) the follow up to the cult film classic and TV series Vampires: Brighter in Darkness. The festival closes with Bruno & Earlene Go To Vegas (image left)  by Simon Savory. The British filmmaker has already been thrilling audiences in the US with his first feature that he describes as a love letter to the outsiders, the weird and wonderful people who exist on the fringe, on the outside looking in.
The festival will also be hosting an Education Day for young people between the ages of 14 and 17, a Producer's Forum for industry professionals and will also be taking part in Takeover Cardiff with the first ever Iris Prize Youth Jury who will be presenting their own award to their favourite short film at the festival.
You can follow Iris on facebook: https://www.facebook.com/IrisPrizeFestival and Twitter @irisprizeView a montage of the 30 short films competing here: http://youtu.be/EoqfCtNq1VI