Dick! Comes Again: Bigger, Longer, Harder!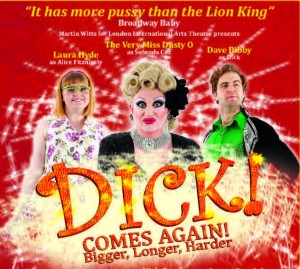 The West End's No1 Adult Panto is back  – and this Christmas season we get much more Dick. STRICTLY ADULTS ONLY!
 Legendary international DJ and celebrated nightclub diva, Miss Dusty 'O', who made her West End stage debut in last year's acclaimed, sold out Dick!, is back as S'HoHo' sex club owner Miss Sofonda Cox.
Miss Dusty 'O' is accompanied by a highly talented gang of West End Wendys to take on another camp and quiet ridiculous, carnal romp through London Town, written and directed once again by Stuart Saint.  The infamous Queen Runt has risen from the deep, dark depths of showbiz hell, bringing 'Carry On'-style chaos to the festive season. Will familiar friends, Dick!, Alice, Fairy Bell-End and the infamous pussy, Dave The Cat, be able to save the day and restore order to London's favourite and number one panto? … Probably not, but a scintillating, riotously rude and hilarious evening is in store for the filthiest Christmas and debauched New Year you'll ever enjoy!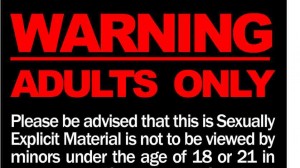 Dick! Comes Again: Bigger, Longer, Harder! is not for the faint hearted, easily  offended or shockable – However you should give it a try, you never know, after all, there's nothing wrong with a little bit of Dick!
Dick! Comes Again: Bigger, Longer, Harder! plays an eight-week season from:
Wednesday 27th November to Sunday 19th January.
Leicester Square Theatre, 6 Leicester Place, LONDON, WC2H 7BX
Box office: 08448 733433         www.leicestersquaretheatre.com