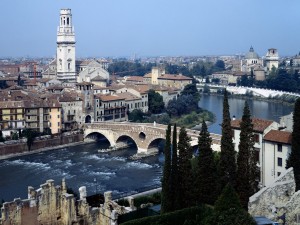 Home to countless real-life Romeos, not to mention one or two gents, it's more bars than Bards in World Heritage City, Verona, these days, finds Bent's romantic roamer Adrian Gillan.
"Two households, both alike in dignity, in fair Verona where we lay our scene…"
So Shakespeare – who never left England – puts this Northern Italian gem on the world stage whilst, in Romeo, creating the ultimate, timeless icon of youthful male ardour, whose gay legacy is still writ large on the Veronese streets to this day! In actual fact – built on a trade-route crossroads, and Italy's best-preserved Roman city after Romeitself – Veronahad been firmly on the map long pre-Renaissance.
TO SEE 'N DO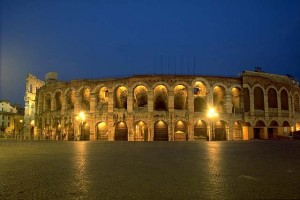 Set in a seductive bend of the Adige River, near mountain, lake and plain, Verona's 'centro storico' is hubbed around one-time Roman Forum site, the Piazza Erbe, now dominated by the lofty Torre dei Lamberti; plus the 15,000-capacity Arena, and tad-smaller Teatro Romano just over the river – these latter venues offering opera and theatre respectively over summer months. Also note the well-preserved Roman city walls and gates; plus the vast overlay of Renaissance architecture – most famously on the tad-kitsch 'Romeo & Guilietta' Trail, notably at the much-graffitid Casa di Giulietta, plus tad-tenuously-linked nearby tomb. Visit the roomy Museo di Castelvecchio for old fine art; plus savour a glorious quartet of churches – San Fermo, Santa Anastasia, San Zeno, plus the Duomo!
TO BOOZE, BOP 'N CRUISE
If Romeo had been gay today he'd definitely have been hanging, doubtless swinging both ways, at chic/mixed Luclà Café mere streets south of the Arena.
Then our horny homo hero would have popped over the river, doubtless surveying the gents "taking airs" around the old Porto Vescovo archway, and so onto the eponymous, recently renovated Romeo's Club (Via Giolfino 12;). Romeo's is a friendly, perfectly-proportioned yet medium-sized club with bar, dance floor, upper viewing balconies for some stunning sexy scenes, trendy toilets and… darker spaces. The crowd is youngest on a Friday. Regular Naked and Bear Parties too!
But if you can't hang around for Romeo, then join the throbbing throng at two-level City Sauna just across the courtyard (Via Golfino 12). Upstairs: changing bays, a café and sprawling cabins. Down: saunas, steam rooms, whirl pools, showers and such.
For Youth and those that hunt Him, Lotharios in the know also decamp Saturdays to Skylight (Via Fontanella 28, S. Bonifacio;) at the small nearby town ofSanta Bonifacio, a twenty minute drive east ofVerona. It boasts multiple music rooms – pop, retro and house – a heaving dark room and weekly themed cabaret acts to make you frown and titter.
TO EAT
We could definitely recommend cosy downtown Il Banco (V. Ponte Nuovo 7; T: +39 045 592718;) restaurant which specialises inParma ham dishes – invariably garnished with cheeses and breads – plus much else besides. Dishy yet-still-expert waiters definitely know their local Suave from their Valpolicella. Dine al fresco beneath the old colonnade! Round things off with their orange chocolate mouse or pistachio parfait, accompanied with a perfectly chilled glass of prosecco.
Equally central Trattoria Al Bersagliere (via Dietro Pallone 1; T: +39 045 8004824;), offers traditional Veronese cuisine in its various rooms with adjoining well-stocked cellar plus airy garden. Incidentally, charming hosts Leopoldo and handsome son Alessandro also make a fine line in purportedly well-nigh aphrodisiac chocolate!
TO STAY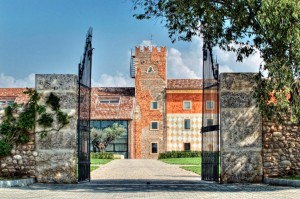 Set in a former monastery around a garden, the beautiful 4-star Hotel Veronesi la Torre (Via Monte Baldo 22, Dossobuono di Villafranca, 37062 Verona; Tel. +39 045 8604811; ) is a magical, stylish combination of the old and charming with the new and chic. It now offers a Wellness Centre, boasting a large spa with sauna, steam room and indoor swimming pool, plus fitness centre. Its spacious, light and airy rooms are all individually designed, with wooden floors, marble bathrooms and antique furnishings. Free wifi throughout! Relax with a drink in the ambient bar before fine-dining in its gourmet restaurant. NearVerona airport (free two-way hotel shuttle transfer provided), the hotel is just a 15 minutes drive fromVerona city centre (pre-bookable free one-way hotel shuttle transfer available). Amazingly personal and attentive service! Great breakfasts!
Monarch, the scheduled leisure airline, operates flights to Verona from London Gatwick and Manchester airports with fares, including taxes, starting from £47.99 one way (£103.98 return). In addition to year-round low fares, Monarch also offers a range of products and services, both on the ground and in-flight. Everyone is allocated a seat at check-in but seats can be pre-booked from £5.99 per one-way flight, to ensure that families and groups are seated together. For those looking for added comfort, extra legroom seats are also available, offering up to six inches of extra space, from only £9.99 one-way. You can also take advantage of online check-in, available between 18 days and 4½ hours prior to departure. A great range of tasty hot and cold meals can be pre-booked or purchased onboard.