Modern Marriage in Modern Family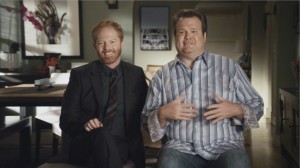 Bent's favourite comedy show is to return with its fifth-season premiere where loved-up gay boys, Mitchell (Jesse Tyler Ferguson) and Cameron (Eric Stonestreet) are set to become America's first on-screen same-sex married couple.
Only a few months ago it would have been difficult for the writers of Modern Family to have even thought about such a controversial script but California law has changed. DOMA (Defence Of Marriage Act) has, to a certain extent, been nullified by the U.S. Supreme Court (for those in California at least) so the series gay characters are, after receiving complaints of a lack of touchy-feeliness in the earlier shows from LGBT organisations, set to make a broadcasting first in the U.S.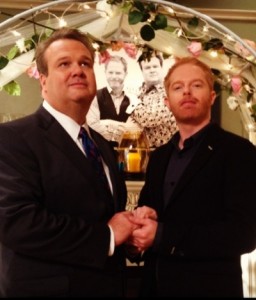 The premiere has already been broadcast in America but in an interview with The Hollywood Reporter  http://www.hollywoodreporter.com/  , Jeffery Richman, one of the award-winning comedies two openly gay writers, has said how emotional writing those scenes was.
"Mitch and Cam have been in a relationship for eight years, they already are a family and they have a daughter, so there needed to be a reason for them to get married.
"As I started writing, I became unexpectedly emotional. I teared up writing it. I teared up hearing it read. And I completely teared up seeing that moment where they both just say "yes" at the exact same time. That was so moving for me. I felt like, "OK, maybe I got it right because I never cry at weddings."
Modern Family is a huge hit all over the world but it will be a test of certain countries broadcasters if they show all of the 5th season. We can but hope that a comedy that says that it is not 'political' can inject some sense of love and happiness into parts of the world where two gay men or women cannot express such sentiments.
At the moment there is no date for SKY showing Series 5 of Modern Family.