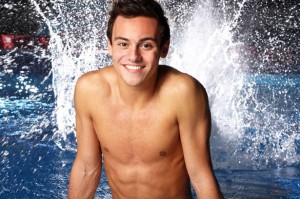 Photo: Splash/ITV
OK, it has to be said that at last year's Olympics we gay boys were screaming our hero, diver Tom Daley, to victory.
Alas, it wasn't to be as Tom didn't quite attain that gold medal we all hoped he'd get as, for just less than two seconds, he jumped, twisted, posed and plummeted into the pool with barely a splash. A bronze was his achievement and critics put this 'failure' down to him not being focused and having too many other distractions, such as his huge number of fans and his sponsor commitments.
We here at Bent supported him because he was cute, appeared to be youthfully confident in his abilities, enthusiastic and spent his entire working life in little more than a tiny strip of nylon. Like all divers, he has honed his body to the maximum and appears to enjoy his physical appearence, which was proved when he and the Team GB team made a You Tube video of them all dancing to 'Sexy and I know it' https://www.youtube.com .  It isn't surprising that voters in a recent Attitude magazine poll placed him 1st as their "sexiest man in the world". He beat off (if you'll pardon the obvious double entendre) David Beckham and Superman actor Henry Cavill to top this lustworthy chart.
In a recent interview with the Sunday Mirror, Tom is reported as saying: "I think it's funny when people say I'm gay… I laugh it off. I'm not. But even if I was, I wouldn't be ashamed. It wouldn't bother me in the slightest what people thought."
Even if we gayers now seem a bit disappointed that the lad isn't 'one of us' we will stand by our man because he hasn't changed when he says:  "I can understand why I have a massive gay following – I spend most of my life half naked in trunks on a diving board showing off my bare chest. I often joke I wear more to bed than I do to work."
When asked specifically what he thinks of his gay fans he said: "These are the people that give me extra motivation during training. I really appreciate it."