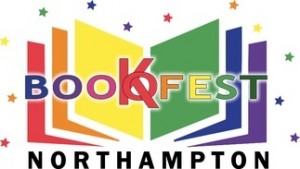 BooQfest – the quirky, quintessentially queer quest for works by gay, lesbian, bisexual and transgender authors is back again in Northampton this September.
Over a dozen authors, journalists, storytellers, screenwriters and playwrights both local and national, will be making the Royal & Derngate Theatres in Northampton their destination point from 13th – 15th September.
Offering readings, discussions, book signings and workshops festival guests include internationally acclaimed author and journalist Rose Collis, writer and performer VG Lee, CBBC's Wizards v Aliens screenwriter Joseph Lidster and the host of LGBT literary salon Polari Paul Burston – to name but a few!
BooQfest director, Daniel Burrows, says, "We had such a positive reaction to booQfest's first outing last year, we just had to bring it back! This is a festival that everyone can be involved in regardless of sexual identity. BooQfest is still about bringing everyone together over a shared love of language and literature, and all events are free of charge!"
Genre's being explored this year involve Fantasy and Play Writing, in addition to an array of events incorporating poetry, non-fiction, performance, travel and autobiography.
Tickets are available at the Royal & Derngate box office – Tel 01604 624811.
http://booQfest.webs.com
Comments via Facebook
comments