THE WIG PARTY'S MASKED BALL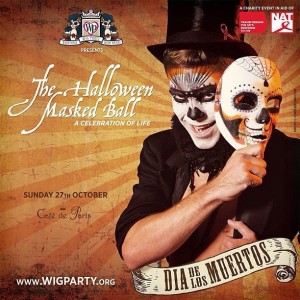 The Masked Ball is back! The event, which is organised by the same team that brings you The Wig Party, returns on Sunday 27 October, and will be held at Café de Paris.
This year it's going to be #deadglam – with a Halloween theme, Dia de los Muertos or Day of the Dead. Much like its sister event, The Wig Party, it's all for charity, with proceeds from the ball going to NAT (National AIDS Trust), the UK's leading HIV campaigning charity.
But that's not the only similarity – both events are wildly extravagant, held in the most exquisite of venues, feature top DJs, some wild performances, a top PA and, most importantly, are SO much fun.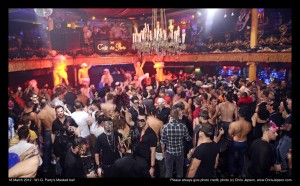 Photos – ChrisJepson.com
Although the venue will be dressed to the nines, guests don't have to be. All you need to bring is yourself, your dancing shoes and of course – a mask!
Party chairman and chief organiser, Josh Rafter, said: "The ball is a more low key version of The Wig Party – with the same incredible party vibe but more music and performance, the catwalk disappears so there is more room to dance and get on down. People can still come along for a great night out, supporting a great cause, just without a full-on costume.
"It's a great way to hang out with your mates and meet new people – and when you don't know who's behind all those masks it gets really exciting! We will be revealing some celebrity supporters very soon. Last year's ball was massively successful so get your tickets as soon as they go on sale!"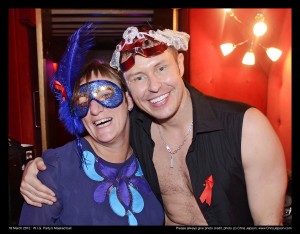 Deborah Jack, chief executive of NAT, said: "We're very excited to be working with the Wig Party again. The event really will be a celebration of life. At NAT we work hard to ensure people with HIV can live their lives to the fullest – that they aren't held back by discriminatory laws or affected by ignorance and stigma, that they have the support they need to continue to work, stay healthy and know their rights. We are very grateful that this event will help us to continue to campaign on these issues – shaping attitudes, challenging injustice and changing lives."
Tickets for The Masked Ball are available now. The party's already started over on Facebook where you can get all the updates about the event as well as inspiration for your mask. Go to facebook.com/thewigparty for more and keep checking wigparty.org for updates on this and the future 10th anniversary of the Wig Party itself.