Eurovision – Good evening, Copenhagen!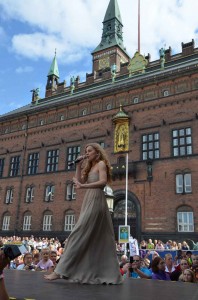 Ever since Denmark's Emmelie de Forest won the Eurovision Song Contest in May 2013 in Swedish Malmö, a number of Danish cities have expressed their wish to host next year's competition. Well, the wait is over as the choice fell on the Danish capital, Copenhagen. 
Copenhagen will host the Eurovision Song Contest 2014. After three and a half months of negotiations, the Danish Broadcasting Corporation has decided on the Danish capital. 
The venue for the three fantastic music shows, the semi-finals on 6th and 8th May and the final on 10th May next year, will be the old B&W shipyard. The old factory halls have been crucial to the Danish Broadcasting Corporation's decision. 
"We are so proud that the choice has fallen on Copenhagen to host Eurovision 2014. It is a big win for the entire Capital Region, which also has great value for all of Denmark. The Eurovision Song Contest is an opportunity for us to reach out to the world again and tell the story of one of our society's industrial icons, Copenhagen shipyard, as a venue for the creative Copenhagen. We look forward to welcoming thousands of visitors from all over the world," says Lars Bernhard Jørgensen, CEO of Wonderful Copenhagen, who submitted the official bid in close cooperation with the City of Copenhagen and the Capital Region. 
Eurovision Island 
The ancient and historic B&W shipyard on the island Refshaleøen in Copenhagen Harbour offers a unique opportunity to create a new and exciting framework for the Eurovision show, taking it to the next level. 
According to executive producer and head of the Eurovision production in Denmark Pernille Gaardbo, the Copenhagen shipyard venue makes it possible to create an innovative TV show previously unseen in Eurovision history. The entire Refshaleøen island will be transformed into Eurovision Island, where participants, fans and media will meet for the world's biggest music competition. 
On top of that, Copenhagen offers every conceivable demand for accommodation and cultural experiences that characterises an international city. Just a few months ago, Copenhagen was proclaimed world's most livable city by renowned magazine Monocle. 
Figures from this year's Eurovision in Malmö points to more than 18,000 foreign visitors and up to 80,000 commercial accommodations. With approximately 170 million viewers, all eyes will be on Copenhagen.
If you're a fan, you'd better book your tickets and accommodation now.