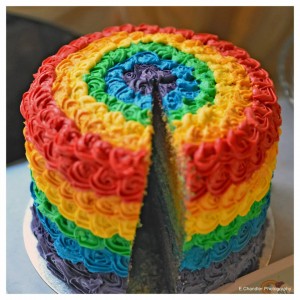 Images: E Chandler Photography
  Over 40 entries demonstrate baking talent of Manchester's Gay Village.
The Great Village Bake Off hosted by Manchester's Village Bakers and long-term supporters The Molly House recently as part of the Manchester Pride Fringe Festival, was a truly spectacular event. The culmination of a huge amount of baking endeavour and talent, from tartiest tart to camp cupcakes and firmest buns. Not to mention the spectacularly colourful array of magnificent Rainbow Cakes.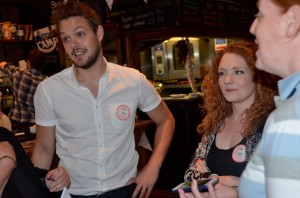 Judging the event was baking expert and winner of the 2012 series of BBC2's The Great British Bake Off, Mr John Whaite, with actress and Coronation Street star Jennie McAlpine and Manchester Pride Patron Claire Mooney, all keen to tickle their tastebuds with the fabulously creative edible entries.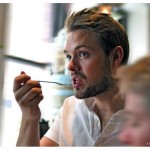 John Whaite has had an obsession with baking and cooking since he was a tiny boy, and has developed this passion into a career. He was extremely excited to be leading the judging, and keen to share his baking knowledge with the Village Bakers and Manchester's LGBT community. Originally from Wigan, the local lad loved returning to his roots and supporting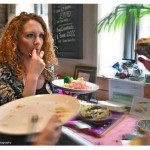 Manchester Pride, which is a cause close to his heart.
Manchester born-and-bred actress, comedian and owner of Annie's restaurant in Manchester city centre, Jennie McAlpine joined John on the judging panel. She is best known for her long-running role as Fiona 'Fiz' Stape in ITV's Coronation Street. Claire Mooney, foodie, singer-songwriter, and Patron of Manchester Pride completed the line-up.
The event attracted over 200 spectators, packed tightly into The Molly House Bar whilst the judges sampled and deliberated over 40 entries. The cakes themselves were truly awe-inspiring, thinking outside the box with a huge amount of effort from each competitor.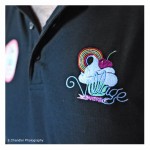 Kevin Sargent, chair of Village Bakers said "The effort and ingenuity which had gone into the entries was immense. John Whaite, Jennie McAlpine & Claire Mooney were all extremely impressed with the quality and creativity involved. It was fantastic to see Manchester's Gay Village come together from all walks of life to help raise money for Manchester Pride Fund."
Paul Duffy, a member of the Village Bakers and general manager of The Molly House continued "I was delighted that the first Great Village Bake Off was a tremendous success with a varied and astounding range of imaginative bakes on offer. The gay village demonstrated fantastic support and interest in this fundraising event, which showcased the work that The Village Bakers, as an inclusive community group, already do all year round . Roll on Great Village Bake Off 2014!"
Manchester Pride chief executive John Stewart added " "It was amazing to see so many people, and so much cake, squeezed in to the Molly House on Sunday.  I'm sure the Bake Off is going to become an established fixture on the Manchester Pride Fringe calendar."
Entry categories and winners (winning prizes kindly donated by The Co-operative Food, The Co-operative Electricals, Stockport's Little Underbank Tea Room and 151 products):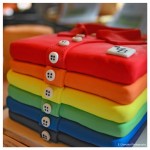 Best in Bake Off: Neill Duncan with an incredibly creative and technically challenging Stack of Rainbow Cake Polo Shirts.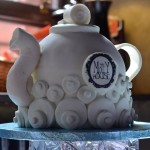 Best Business Award Winner: The Molly House, presenting a tea-pot inspired Rainbow Cake by Molly House baker Robert Burgess.
Best Rainbow Cake: Neill Duncan (as above).
Campest Cupcakes: Scrumptious Pink Fizz Cupcakes by Lisa Duddington.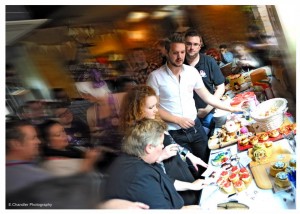 Tartiest Tart: Paul Dempsey with very tasty Chocolate Surprise Tart topped with leopard print
Firmest Buns: Stephen Squires with light and fluffy Apple & Caramel Chelsea Buns.
The Great Village Bake Off raised in excess of £370 from ticket sales and collection buckets, all in aid of the Manchester Pride Community Fund, helping local LGBT charities and community groups.
Village Bakers, The Molly House, Richmond Street, Manchester, M1 3NB