Blow me… bubblegum condoms.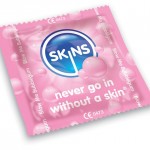 Who said safe sex was boring? Whether you're craving rhubarb and custard, pear drops or liquorice allsorts, indulge your sweet tooth with Skins Blow Me Bubblegum condoms.
The ultimate way to sweeten your sex life, each Skins Blow Me Bubblegum condom is uniquely infused with the irresistible taste of bubblegum, guaranteed to get your mouth watering.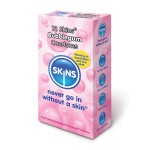 Perfect for great-tasting foreplay, and ideal protection for the main event, you'll be blowing bubbles all night long with these delicious condoms.
All Skins condoms are made using only premium quality latex for extra clarity and strength. What's more, Skins condoms mimic that skin-on-skin feeling for great sex that feels just like the real thing.
If this isn't enough, unlike other condom brands, Skins condoms come with extra lubricant, meaning they feel better and are less likely to split.
In fact, Skins have been specifically designed with your comfort, safety and pleasure in mind – you'll never want to go in without a Skin again!
Skins Blow Me Bubblegum condoms are available in packs of 12 and 4 Skins – pun intended! The flavour range also includes Skins Flavoured, with the additional tongue-tingling tastes of Minty Mouthful, Bangin' Banana and Succulent Strawberry.
4 pack  £2.49   12 pack £5.99                           www.skinscondoms.com