Tumbledown with Brad Hallowell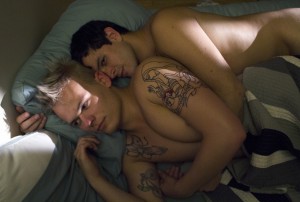 Inspired by true events, Todd Verow's Tumbledown is an explosive cocktail – an emotional rollercoaster ride through the dark sides of sexuality.
A complicated love triangle develops after hunky Jay meets bartender Nick and invites him to spend the weekend with him and his partner in their country cabin.  Soon, copious amounts of sex, drugs and alcohol lead to a dark obsession and even darker complications. Always bold and never less than riveting, Tumbledown is sure to leave you breathless. With the by-line 'there are three sides to every story' Bent took the opportunity to get a take on at least one of these stories from one of the film's stars, Brad Hallowell.
As you wrote/produced and starred in Tumbledown, and the film is based on a true story, is it one that you experienced yourself?
It is a story that I am very familiar with, and although I have had some interaction with all of the characters, we have made a decision not to discuss the extent of that interaction so as to protect the personal lives of the individuals. The story is very dear to my heart and I am extremely happy to have the honour of telling it.
The film is being received very well and pre-sales on the DVD are also going well… are you surprised at the film's success?
After speaking with Brett & Todd, I think we are all very excited, humbled and surprised at the success of the film. I think it is a very important story that needed to be told, and I hope everyone is as moved by the film as I was to make it.
You have been working on a small budget are there any plans to go Mega with a gay blockbuster?
I would love to be able to work with a bigger budget, but am blessed that I have been able to make films at all. It has been a dream of mine to be in movies since I was a kid, and I have been able to realize that dream working with Todd Verow. If the opportunity presented itself to work on a larger scale, I would be hard pressed to turn it down.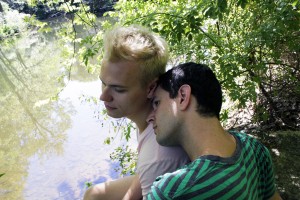 Here in the UK it looks like we are finally going to get equal marriage for gays… in the US it seems that some States are dragging their feet, what do you feel will be the eventual outcome?
I do think there will be marriage equality for all in the very near future, and although I would not say I am the campaigning type, I am very vocal about wanting marriage equality and do my best to take part whenever it is possible.
Do you have a partner?
I currently do not have a partner, but applications are welcome
What is your most disturbing dream?
I don't tend to have disturbing dreams, but the ones that affect me the most have to do with my past failures and the desire to turn them into triumphs, as I have been able to do by making films with Todd.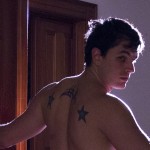 What (who) gets you up in the morning?
Usually it's my alarm going off incessantly. I would not say I am a "morning person" but every day is exciting for me. Even living in a small town, I have come to enjoy everything that life throws my way.
What is next for Brad Hallowell?
I'm starting a new job next week, which is very exciting. And I hope to be working on new film projects in the near future, although I do not currently have anything in the works.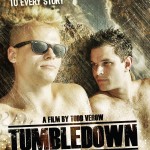 TUMBLEDOWN is released on 26th August by tla releasing