Travel – It's Amsterdam-n Fine!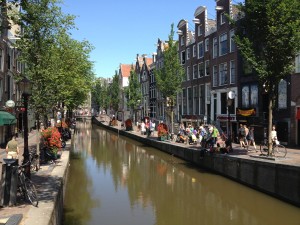 This weekend is Pride in Amsterdam, one of the most renowned cities in Europe, we sent Simon Savidge to find out more about the city where he not only discovered a great place to party, but also a city that celebrates independence and culture and frankly he would quite like to move to…
Amsterdam is most famous/infamous for its Red Light District, 'cafes', cheese, tulips, canals, Anne Frank and Van Gogh. These things are all true of the city but there is so much more that lies behind this 'renowned' facade. Along its canals and through its streets is a city that is buzzing with vibrancy and a place where you feel at once instantly at home and also where the possibilities are endless.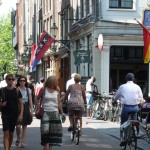 As Pride is on the horizon in Amsterdam right now would be the perfect time to head there for a party, however, any weekend is party time in Amsterdam and its sprawling gay scene. Unlike in many UK cities the gay bars and clubs of Amsterdam pop up all over the place and, as I was told, 'there is no real gay ghetto, the bars and clubs are everywhere because sexuality is no big deal', which is refreshing to hear. Do not fret though that you might have to travel for miles to go from bar to bar as the heart of Amsterdam is relatively small and everywhere is e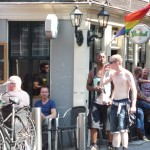 asy to walk to and from. If you like the party boys head to Taboo or Club Roque, if beards and bears are your thing head to Zeedijk where you will find The Queens Head and De Engel, fancy something wilder and Church, The Eagle and Dirty Dick's will be right up your street. I highly recommend Prik though, no it is really called that and means 'sparkling' thank you very much, which is set slightly out of the way but has a real mixed clientele and amazing cocktails.
If you come to escape for the weekend then Amsterdam can also give you culture. With its own Museum Plein, or 'museum square', which is  a park just a ten minute walk from the cit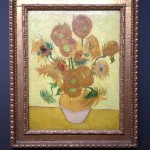 y centre surrounded by museums.  You could easily loose a day as whatever your taste in art there is a museum which will draw you in (see what I did there). Highlights for me were the Van Gogh museum, where to see some of the world most famous paintings is quite a heady experience. The incredible Rijksmuseum (which has recently had a multimillion euro makeover) which probably needs a full day or two to explore and where you can see some of Rembrant's best known works amongst many others and, my personal favourite, the Stedelijk Museum of modern art. Though with over 30 museums in the city there is no way to mention them all.
Whether you are there to party, for the culture or both one thing you will need is food. If you are looking for a great place to dine I would strongly recommend that you head to the following places.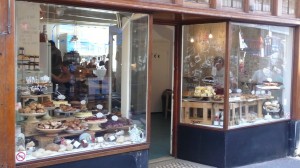 For a superb meal in the heart of the city, maybe over lunch whilst watching the world go by you need to head to Kitchen and Bar Van Rijn (where we would recommend the salads or the chicken satay) or you could head to the slightly more hidden Brasserie Harkema where rustic meets the modern and the menu is simply delicious so is well worth hunting out. If you are looking for something off the beaten track you simply MUST go to Hemelse Modder, which gets its name from its infamous chocolate pudding 'heavenly mud'. A true gem!
Other highlights would have to be Anne Frank's House, though book in advance as no matter what the weather or day of the week the queues to get in go around the block. It is an incredibly emot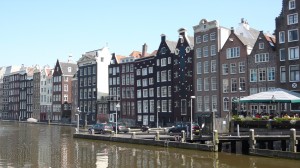 ional trip, call me what you want but I defy anyone to go there and not be completely moved by the experience, and well worth going to for its poignancy. On a lighter note you might want to get to know the city through its famous canals and hit the Canal Hopper which you can, as it says on the tin, hop on and hop off of or stay and even have dinner on if you catch the right one. You also get a completely different view of the city.
Amsterdam is a city that offers a great deal. One of the things you can do is buy one of the 'I Amsterdam' city cards, which you can get from the tourist information opposite Central Station and entitles you to free entry in many of the main museums and endless travel on the trams. Who knows what you may find, something like the amazing quiche and cake shop De Laatste Kruimel for example, where you would have to try the Courgette and Lemon Curd cake of course.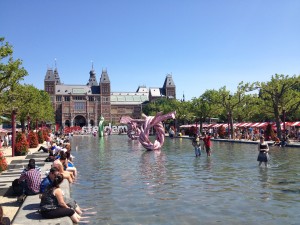 Exploring new places and finding new things was exciting and only added to my love of Amsterdam, which could easily be my new favourite city. With it only being an hour' flight away it's sure to be somewhere I will return to again and again.
Simon's trip to Amsterdam was organised by holland.com and he flew by KLM from Manchester. He stayed at the stunning Andaz Hotel, which is one of the Hyatt chains new 'boutique' individual hotels… with their 'Rainbow Package', where you get to stay in a luxury suite, cocktails, an amazing breakfast, complimentary snacks and non alcoholic drinks and a Pink Point goodybag, what more could you want? Book now.