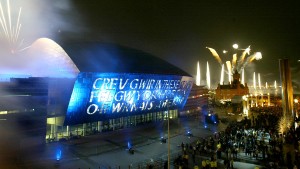 Oh boyo! Adrian Gillan catches Welsh rarebits down in crazy, sexy Cardiff!
Dream of yummy lads in scrums; or strapping miner boys sluicing off their soot? Dream on! Cardiff is in fact one of Europe's youngest capitals – both head and heart of Wales – as well as breeding gloriously horny, luscious, lilting stunners with dark hair and eyes, high cheekbones and strong jaws to die upon. And it's never been easier, or more relaxing, to get here than via fabulous First Great Western trains!
SEE & DO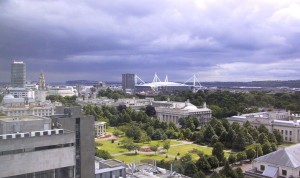 You can't miss the vast Millennium Stadium, looming up over the main bus and railway stations, by the River Taff – tours available; and don't miss Cardiff University campus, thronging with students – open to all persuasions. For shops, hit Queen Street – plus the famous Victorian Arcades. For history, check out Cardiff Castle & Museum, plus vast adjoining Bute Park. For culture, try the National Museum & Gallery; or a show or concert at St. David's Hall, New Theatre or Sherman Theatre. For a complete change of scene, try the cafes and eateries – plus spanking-new Millennium Centre and National Assembly for Wales ("Senedd") – in the utterly revitalised Cardiff Bay waterfront district, just south.
BOOZE & GROOVE
A good place to start the night is the Golden Cross (283 Hayes Bridge Road), a traditional pub in a fine old building. Loungy Bar Icon (60 Charles Street;) is a great spot to chill and chat. Bears and leathers hang out at the nearby Eagle Bar (39 Charles Street). The wild, eccentric and exuberant mince down the alley to Minsky's (Cathedral Walk, St David's Centre;) barn of a cabaret bar, mainly for top drag acts who shimmy and bitch with the best on the amazing stage slap bang in the middle of the bar – hugely popular with gay men with hags-in-tow.
On Churchill Way- just parallel to and due east of Charles Street– check out The Kings (10 Churchill Way;); plus, mere doors down, orange-hued Wow Bar (4a Churchill Way;), with its pink-hued Wow Club downstairs.
For more dancing, Pulse (3 Churchill Way;), just opposite, boasts a comfortable bar area on ground level; night time chill zone on the upper mezzanine; and a larger floor in the basement, pumping chart and dance, and scene of many a drag display.
CRUISE & STEAM
Gents oft "take airs" in central Castle Park, only a five minute walk away from quarters queer – at night, entered round the side via Sophia Gardens! And cum rain or shine, the Locker Room (50 Charles Street;) sauna steams and sweats away.
STAY, EAT & RELAX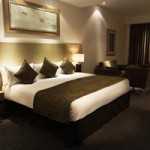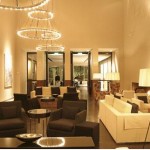 The award-winning Park Plaza Cardiff (Greyfriars Road; T: 02920 111111;) is a modern, stylish 4-star deluxe hotel bang twixt sites, scene and shops, enticing with its fab restaurant and bar, plus pool and spa! All 129 stylish air-conditioned bedrooms boast TV, work desk, tea/coffee-making facilities, ironing equipment, mini-bar, hair dryer, laptop safe, EU/US power sockets – and free Wi-Fi! 100% Egyptian cotton sheets, feather duvets and pillows and luscious fabrics all add to the thrill! Exec rooms, plus Junior Suites and Suites, also come with an enticing wine-fuelled welcome tray!
The hotel's much-lauded Laguna Kitchen & Bar is loved by locals and guests alike – famed for its blend of Welsh and British classics, using the freshest and finest local produce for menus to suit all tastes. An imposing floor-to-ceiling wine-wall divides the restaurant from the sleek, sophisticated yet relaxed bar – with its low tables, funky chairs and intimate booths.
After a hard day's sightseeing, unwind at the hotel's Laguna Health & Spa – a "temple to touch and aroma"! All guests enjoy complimentary access to the main area, with its beautiful UV-filtered stainless steel pool, sauna and steam room, plus state-of-the-art gym! Or treat yourself to an exotic blend of massages, facials, manicures or pedicures!
The next Cardiff Mardi Gras will be on 31 Aug 2013
Cardiff is a mere 2 hours away from London Paddington, and even closer from other UK cities, by wonderful First Great Western trains.