AMSTERDAM PRIDE – 27th July to 4th August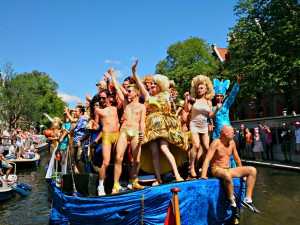 Photos by Adam Lowe and Daniel Tyler.
 Amsterdam has been ahead of the game in terms of LGBT rights for at least a century and a half. Homosexuality was decriminalised in 1811, ahead of the UK and the rest of Europe. In 1946, the COC Organisation formed to fight for equality and emancipation. In 1987, they erected the first monument to the LGBT victims of the Nazi regime. In 2001, the Netherlands became the first country to legalise same-sex marriages, with the first ceremonies conducted in the city.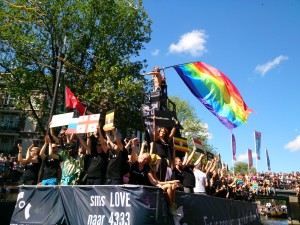 Even now Amsterdam is a bastion of tolerance and friendliness, and its pride event has grown from humble beginnings in 1996 to become one of the biggest prides in the world. Amsterdam Pride sites its parade on its most iconic architectural feature: the canals. The floats literally float, spurting confetti in the air, its revellers ducking down every time they pass under a bridge. Meanwhile, the crowds line up along the banks to cheer on the procession.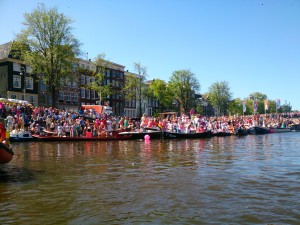 Over 400,000 people attend Amsterdam Pride and the Canal Pride Parade each year, with over 80 floats in the parade and around 100 participating venues. Straight visitors and families are just as present and visible as members of the LGBT community, revealing just how easil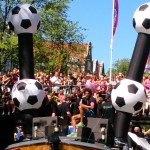 y these two elements of Amsterdam society exist alongside each other. It was refreshing to see Dutch footballers on the parade route, for instance, given the reluctance of UK football clubs to engage with homophobia. The armed forces and emergency services also took part in pride, along with HIV and sexual health charities, and big corporate sponsors, such as Vodafone and Captain Morgan's.
Pride caters for all elements of the LGBT community, with Grey Pride to accommodate an older generation, LesBian Pride to accommodate our Sapphic sisters, and plenty of events and activities for those with 'niche' tastes (European boys being far more open-minded than their British cousins). Pop-Up Pride was a photo route in shop windows and construction site barriers, featuring work by internationally acclaimed photographers that shed light upon the Amsterdam LGBT experience. This year, members of the public could also drop into the Amsterdam Museum for an open photo shoot for the NOH8 campaign, and see themselves used in the global campaign to resist anti-gay legislation.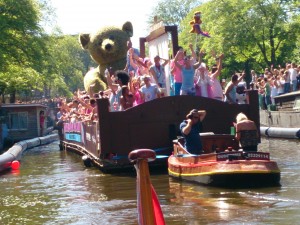 GETTING AROUND
 Travel round Amsterdam is easy with the I amsterdam City Card, which gives unlimited use of the city's GVB public transport for one to three days, as well as free entry to museums and one free canal cruise per card. Taxis are dirt cheap compared to London, but more expensive than, say, Leeds or Manchester. Otherwise, the city centre, while big, is still small enough that you can get about on foot. We managed to walk from our hotel to the gay bars in less than 20 minutes.
TO SEE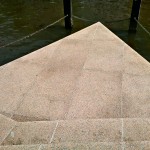 The Homomonument is a pink triangle that juts from the side of the canal over the water. It commemorates all the LGBT people who died in WWII, as well as those who have died since. The three points of the triangle point to the Anne Frank House, the National War Memorial on Dam Square, and the COC Organisation's offices.
 The Homomonument was also the site of the Drag Queen Olympics, which features a stiletto sprint, handbag toss and a 'tug of love'. Qualified beauty professionals are on-hand to tend to any cosmetic emergencies that may arise.
Artis Royal Zoo has its own special tour, 'Homosexuality in the Animal Kingdom', led by biologist Charlotte Vermeulen. The zoo, 175 years old in 2013, has many gay and lesbian animals, including a famous penguin couple who adopted a baby penguin to raise as their own, and a virtually all-female 'pride' (sorry!) of lionesses. You'll also learn interesting facts, such as 94% of all giraffe matings taking place between males.
IHLIA is the city's LGBT archive and special LGBT events are also hosted by the Amsterdam Public Library.
TO EAT
Bistro Bij Ons on Prinsengracht is just one of the city's LGBT restaurants. Downtown, Lion Noir and Saturnino (all on Reguliersdwarsstraat) also serve food, as does Getto on Warmoesstraat.
But since most restaurants in the city are gay-friendly, you should have little trouble finding somewhere to eat. Moeders is a kitsch Dutch restaurant with its walls plastered with photos of mothers. Haesje Claes serves old-fashion Dutch treats, while Loetje apparently serves the best steak and chips in the city. If class is more your style, try D'Vijiff Vlieghen, which even has a room decorated with etchings by Rembrandt.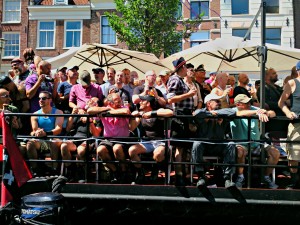 TO STAY
Amsterdam has over 350 hotels, so you'll never struggle to find somewhere to sleep.
Hotel Pulitzer is a five-star hotel located on the Prinsengracht, within walking distance of the Anne Frank House. The hotel's facilities include ballrooms, private canal boats, a gym, and a fabulous restaurant.
Andaz, part of the Hyatt brand, is a boutique hotel designed by Marcel Wanders, just down the road from the Hotel Pulitzer. The hotel's finer touches include Delft Blue ceramics, tulip motifs and inspiration drawn from the Golden Age.
TO PARTY
Café 't Mandje first opened its doors in 1927, when lesbian Bet van Beeren made it a haven for the city's LGBT population. Bet, the so-called 'Queen of Zeedjik', successfully resisted Nazi occupation, hiding Jews in the cellar, keeping guns in the attic and stocking German schnapps behind the bar. The bar remained open until the 1980s, run by the family, and reopened again in 2007.
Dick's Night Out kicked off pride. Located at the Andaz, guests received free goodie bags with gingerbread bears and free lube. Quite why a family with a ten-year old girl stumbled in at 10pm is anyone's guess—I guess she smelled the gingerbread.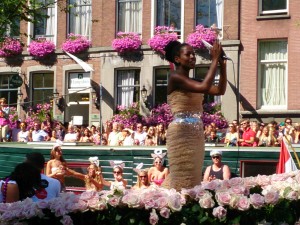 Fucking Pop Queers at Paradiso was a manic night of avant garde and disco glam. FunHouse Queen-size Edition played host to The Magic Kingdom, with a fairytale theme and a blend of uplifting and energetic house. Bear Necessity at Club Odeon catered for the fur-lovers, while the street parties continued into the night.
Club Church caters to gay subcultures, including a pants-only party for Amsterdam Pride. For cocktails try Prik and for a cosmopolitan feel, try Taboo. If you crave a bit of English style, head to SoHo instead.
FLIGHTS
KLM has regular flights to Amsterdam Schiphol from Manchester Airport, London Heathrow and Leeds. Flight times are less than 90 minutes and include free refreshments, although check-in luggage may be extra on some flights.
FURTHER INFORMATION
ACKNOWLEDGEMENTS
Thanks to Sebas van der Sangen and Amsterdam Pride for inviting us.
Thanks to Hotel Pultizer for accommodation