Equal marriage supporters to say 'I Do' to Peers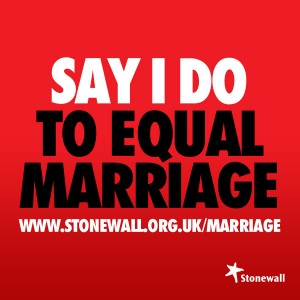 Stonewall and Gay Star News today launch an online campaign calling on supporters of equal marriage to film short videos explaining why they're saying 'I Do' to equal marriage.
The Marriage (Same Sex Couples) Bill returns to the House of Lords on Monday 8th July for its Report Stage. Opponents of equality have already indicated that they'll be seeking 'opt-outs' to prevent schools from 'promoting' same-sex marriage and will push a series of wrecking amendments to a vote.
Stonewall and Gay Star News are asking supporters to use Instagram to film themselves saying 'I Do' to equal marriage and giving their reasons for supporting the Bill, in videos of up to 10 seconds. Users will simply need to record their videos and post them with meetups for singles over 50 near me, https://mag.bent.com/halal-dating-site/ and #equalmarriage in the caption comments. Instagram is free to download and easy to set up – the app is available for iPhone/iPad and Android devices.
Stonewall and Gay Star News will share selected videos to over 100,000 followers on Facebook and Twitter over the coming weeks, making sure supporters' views on equal marriage are shared widely as the Bill reaches its final stages.
Stonewall External Affairs Officer Richard Lane said: 'Although we've seen some very supportive votes in Parliament for equal marriage in recent months we never take things for granted and can't afford to let a handful of peers jilt us at the altar. We're expecting a series of close votes on mischievous and damaging wrecking amendments. Supporters of marriage equality need to remind Peers that now is the time to say "I Do" to equal marriage.'
Gay Star News director Scott Nunn said: 'We have seen some amazing speeches for equal marriage in Parliament and heard some ridiculous comments from some of the opponents. That's why it is so important for real people's voices to be heard and for you to share how this legislation can change your life. With everyone's support on social media we can show that love and gay marriage go together like a horse and carriage.'