Bent USA – WE Party: AIRLINES Flies Into New York City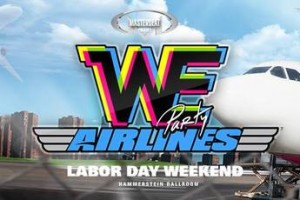 This Labor Day weekend, the greatest party in the world is flying into the greatest city in the world for a once-in-a-lifetime special event. WE Party: Airlines lands into New York City's Hammerstein Ballroom on Saturday August 31st from 10pm – 5am.
The legendary concert hall will literally be transformed into an airport with check-in counters, gates, concessions, and special lounges. Also inside will be the world's most spectacular mega club complete with six points of line array concert sound, hundreds of moving lights, full color lasers, 3d LED visual walls and stunning performances direct from Spain. WE Party's resident pilot, DJ Manuel de Diego, mans the cockpit along with a special surprise DJ, soon to be announced. Thousands of party-goers are coming in from around the world to spend a night flying on WE Party Airlines.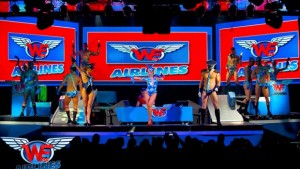 "This will be the first time New Yorkers will actually enjoy going through security," promises event producer Brett Henrichsen "Once past the friendly T&A Screening, passengers can choose between stepping into the pressurized, climate controlled cabin and embarking on the flight of a lifetime, or relaxing in the Mile High Club airport lounge for some special on the ground services. In both areas, specially trained flight attendants will attend to the every need of passengers, before, during and after departure."
The Hammerstein Ballroom is a three-tiered, 12,000-square-foot ballroom located within the Manhattan Center Studios on 311 West 34th Street in Manhattan. It was constructed in 1906 by Oscar Hammerstein and originally named the Manhattan Opera House. It became the Manhattan Center Studios in 1986, and in 1997, after undergoing extensive renovation, with the hand painted ceiling being completely restored, it was renamed Hammerstein Ballroom. In recent years, the venue has hosted several large concert events for major pop artists including Kylie Minogue, Patti LaBelle and Korn. Several seasons of NBC's America's Got Talent have also been taped at the theatre.
"The last time a dance event of similar magnitude was produced at Hammerstein was Victor Calderone's landmark Caligula pride event in 2001," continues Henrichsen. Caligula featured a full symphony orchestra accompanying Cyndi Lauper as she sang her classic hit, True Colors. "We are planning to re-introduce NYC to this spectacular venue and for this Labor Day event to be the biggest WE Party ever produced in the entire world."
Founded in Madrid in 2008, WE Party is known as the Rolls Royce of event experiences from Ibiza to Los Angeles, Moscow to Zurich – and, now – New York. The organization has raised the stakes on nightlife with over-the-top productions offering sensory overload of sight and sound. Each party aims to outdo the last, combining hi tech staging, cutting edge shows, and steamy international dancers with the most stunning crowds. Its groundbreaking use of lighting, lasers and LED, alongside custom made visuals, has been called a visual feast for clubbers. WE Airlines debuted at La Riviera in Madrid and is making its first international flight to Manhattan.
Now in its 15th year, the Masterbeat brand produces highly popular dance events throughout the United States, including its annual series of New Year's Eve extravaganzas in Los Angeles, the largest gay New Years event in the country.
Additional flight information and tickets are available now at WE Airlines website. Passengers can choose between economy and first class fares, each with their own special amenity packages and access to special areas of the plane.