48 HOURS IN MANCHESTER by Adam Lowe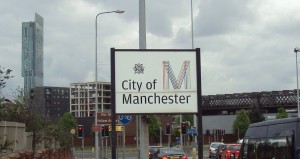 If you're preparing for pride season, there's every chance you're considering Manchester Pride too. We set out to explore Manchester this summer, and report back here with details of what we got up to in our two days in the city. 
Day 1
11.30am: Arrival at Manchester Piccadilly
Manchester Piccadilly is only a short walk away from Canal Street—the heart of Manchester's Gay Village. Walk out the Piccadilly entrance, cross the bridge, and find yourself on the friendly cobbles of Canal Street.
12pm: Luggage drop at Velvet Hotel (Canal Street)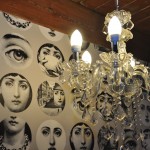 We stayed at the lavish Velvet Hotel, which is itself above Velvet Bar and Velvet Restaurant. The trio is joined now by Velvet Central, on Mount Street, at the other end of town. Velvet Hotel is the only independent boutique hotel in the North West and offers quirky rooms with stylish décor. The hotel has some lovely little touches, such as the branded Velvet rubber ducks in the bathrooms and the Stephen Fry audiobooks of the Harry Potter series played instead of muzak in the bar and restaurant toilets.
We dropped our luggage for check-in later on and headed to Richmond Street for our lunch reservations.
12.30pm: Lunch at The Molly House (Richmond Street)
The Molly House is an off-Canal Street venue full of charm. It boasts an eclectic menu of beers, wines and cocktails, and serves a gorgeous range of Spanish and Latin American tapas. The staff are all helpful and the food comes out quickly. However, if you order as much as we did, you may find it requires a lazy afternoon to finish it all!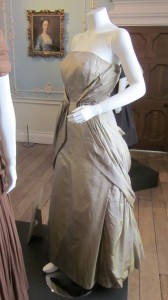 3.00pm: 'Christian Dior: Designer in Focus' at the Gallery of Costume at Platt Hall (Rusholme)
Some two hours later—after three courses of meat, cheese, tapas, desserts and cocktails—we hopped in a taxi to Rusholme. The Christian Dior exhibition at the Gallery of Costume features couture from London and Paris, including a printed lilac silk cocktail dress designed by the then only 19-year old Yves Saint Lauren.
5pm: Return to Velvet Hotel for check-in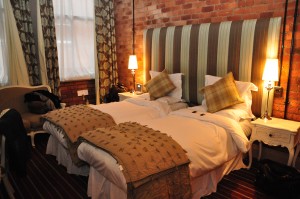 Our check-in at Velvet was quick and very easy. The rooms were excellently presented and it only seemed a shame we had to unpack our luggage and spoil the tidiness. Our room featured plenty of eyes on the walls, so it's probably advisable not to stare too long at the wallpaper if you're feeling hungover.
After a leisurely period to freshen up, we set off on foot for dinner.
7pm: Room Restaurant (King Street)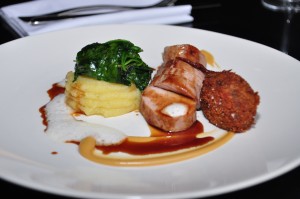 Room draws upon classic dishes with a modern twist. It features a full a la carte menu, which is highly recommended, and a less interesting though affordable set menu. Our advice would be to skip the set menu, and go for the more inspired a la carte options.
9pm: Taurus (Canal Street)
We headed out after dinner, starting with a few warm-up cocktails with friends at Taurus. Taurus is something of a community bar, with a buzzing events space downstairs and a really varied crowd. Taurus also manages the Canal-St.co.uk website and the Canal Street VIP card, which offers bargains at many gay and gay-friendly businesses, including shops, restaurants, bars and more.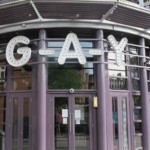 11pm: G-A-Y (Canal Street)/New York New York (Bloom Street)
No night in Manchester would be complete without a couple of £1.50 Jaegerbombs at G-A-Y and a boogie in New York New York.
12am: The Thompson's Arms (Sackville Street)
Because it was Thursday, we headed to the rightly famous The Thompson's Arms to catch drag legend Miss Thunderpussy in her weekly show of covers, sing-alongs and audience participation games. Thunderpussy is very popular over the pride weekend and gigs across the UK, where she has a huge following (or perhaps it's just a huge opening?).
We made sure to take full advantage of their cheap drinks offers (£2.50 on selected house doubles, and £3 for a double house vodka and energy drink) before moving on.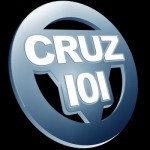 1am: Back2Back at Cruz 101 (Princess Street)
Then it was onto Cruz 101 for Back2Back, where Poptastic's John Hamilton teams up with Cruz to bring you the best in pop and dance till the early hours. We danced so much our legs ached the whole day afterwards.
If you get the desire to gobble down hot food when you finish dancing, McTucky's offers fried chicken galore, while Safad's offers the closest thing to a gourmet takeaway kebab you can get.
 Day 2
9.30am: Breakfast at Velvet Restaurant
Somewhat bleary-eyed and in need of ibuprofen, we made it down to Velvet Restaurant for breakfast. Guests at the hotel are treated to a selection of cereals, cold meats and fruit, or a belt-busting cooked breakfast. I opted for the eggs benedict, while those around me tucked into their bacon and eggs.
11.00am: The Lowry (Pier 8, Salford Quays)
Next we caught Harry Goodwin's exhibition at The Lowry, 'My Generation: The Glorydd Years of British Rock, Photographs from Top of the Pops 1964-1973'.
Harry Goodwin was the resident photographer at the BBC's iconic music chart show, Top of the Pops, and here exhibits 60 images from the show's heyday in the 60s and 70s. Elton and The Supremes both feature in the exhibition.
12.30pm: On the 7th (The Landing, Blue Tower, MediaCityUK)
On the 7th is a VIP hangout for the city's media elite. Guests are invited to sit in private suites, with their own TVs, iPod docks and laptop jacks; on the cushy sofas by the bar; or in one of the function rooms that make the venue a popular destination for busy professionals.
On the 7th also has a cinema, which showcases indie films, with table service as standard.
The atmosphere is so laidback, and the staff so handsome, we ended up spending pretty much all day there!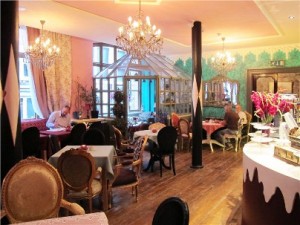 5pm: The Richmond Tea Rooms (Richmond Street)
The Richmond Tea Rooms is a little slice of Wonderland in Manchester. This quirky tea room serves freshly baked cakes and a wide range of teas (plus a few cocktails, should you feel the need to treat yourself!). The tea room is all cushions, bonkers artwork and gingham. It was perfect for my inner queen. Lavish touches such as an indoor glasshouse only add to the charm, although at weekends the place can get very crowded and occasionally there is a wait for a table. When there's room in The Lodge, the adjoining cocktail bar round the back, customers can instead take their high tea there.
7pm: Sanctuary (Sackville Street)
Sanctuary is a relatively new bar in the village, with a downstairs restaurant and a menu that features great pub grub, such as pizzas and fish and chips, done well and priced cheaply. We tried both these dishes and confirm they definitely hit the spot.
On the way down Canal Street, we made sure to stop in Queer, VIA and Rembrandt, to check out the boys and enjoy a quick drink in each. 
9pm: The Lodge (Richmond Street)
The Lodge is a stylish cocktail bar located above Eagle and round the back of the Richmond Tea Rooms. The bar sports a hunting motif, from the masculine wallpaper to the antlered chandeliers.
Next, we checked out Eagle downstairs for a slice of cool house and their fine selection of spirits and liqueurs. Though traditionally associated with bears and leather, Eagle is actually a well-stocked, well-kept bar with an increasingly diverse and trendy crowd. Its no-fuss attitude means you'll often see Muscle Marys and disco dollies on the dancefloor among the hot fuzzies with fierce pecs.
12am: Cha Cha Boudoir at Sub 101 (Princess Street)
Cha Cha Boudoir is a monthly dragstravaganza hosted by superstars-in-wigs Anna Phylactic and Cheddar Gawjus. It falls on the last Friday of every month. Full of queer sass and outrageous acts, drag queens of all stripes (big, small, sexy, scary) take to the stage to impress the crowds and snatch handfuls of drag dollars. The queen with the biggest (ahem) wad at the end of the night is crowned the winner—with all the praise, voguing and pouting for photos that inevitably entails.
Day 3
9am: Carluccio's (Piccadilly Train Station) 
Carluccio's makes a good start to the day, with delicious coffee (try the rich blend for fuller flavour, or the smooth blend for something with less balls) and a typical breakfast of bacon, eggs, toast and mushrooms. What's more, because Carluccio's is in the train station and caters to busy commuters, the food usually comes out in a matter of minutes, freeing you up to do more with your morning. 
10am: Dogbowl (Whitworth Street)
The trendy bar-cum-bowling alley Dogbowl is the newest addition to the Black Dog Ballroom franchise (which we reviewed earlier this year). It opens at 10am at weekends, which means you can get up nice and early and indulge your urge to play ten-pin bowling with a Virgin Mary (or the alcoholic version, if you have the nerve). What better way to end your whirlwind tour of Manchester? If you enjoy midnight feasts, all three of the Black Dog venues serve burgers, salads and New York-style diner food late into the night.
If you stay another day, why not try Aubaine in Selfridge's for lunch, dinner at Grill on New York Street and clubbing at either Aftershock or Poptastic? Trof in the Northern Quarter does a fabulous breakfast.