EMII IS MOVING ON – AND UP By Trent Davis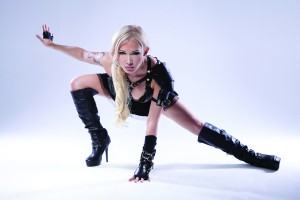 Emii has taken the world by storm with her infectious beats and rocking style.  She first gained attention on the gay dance floor with "Mr. Romeo",  her smash collaboration with hip-hop legend, Snoop Dogg.
Next came last winter's ode to the six-inch pump, "Stiletto's",  a track that remains a favourite among drag queens and fierce runway divas.  This summer, Emii returns with two new tracks, "Freakier Freak" and "Time To Move On", the latter hitting #4 on the U.K. Musicweek POP Club chart this week.
In addition to music, Emii is taking the plunge into film.  She'll star in the upcoming sci-fi/thriller Starship: Rising, playing a young girl forced to leave her home planet to embark on an unforgettable journey into space and beyond.
 Music fans can get a sneak peek of some of the sci-fi action in Emii's new music videos for "Time to Move On" (www.youtube.com/) and "Freakier Freak". Both were shot on the film's set. But while "Time to Move On" is the record racing up the music charts fastest, it's the lesbian action in "Freakier Freak" that is grabbing the attention of her gay fans.  In the video, Emii gets her freak on with a girl, kissing her and yes, liking it.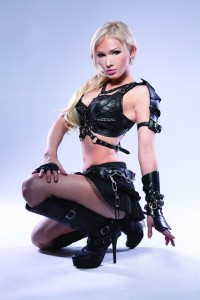 Congratulations on landing in the top ten on the U.K. Musicweek POP Club chart!
Emii:  Thanks!  I would love to perform a UK gay club this summer.  Hint, hint to any club owners reading this!
Let's cut to the chase, Emii.  What's up with the lesbian kiss in "Freakier Freak?"
You have to watch the videos to learn.  The video for "Time To Move On" is actually a prequel to "Freakier Freak."  It provides a bit of insight to the chaos of the "Freakier Freak" video.
Are two girls kissing still considered taboo?
Not for me!
Who is one famous chick you might try experimenting with?
I haven't met any incredibly geeky famous girls yet.  But when I do…
Would you describe yourself as the girl next door?
No, that label is usually reserved for the cute, kind, and unassuming girls we all went to school with. I'm sure I have my cute and kind moments, but if I'm not doing something music, movie, or martial arts-related then I'm playing video games or reading comic books. I've tried baking pies but I don't want to burn my house down so I stick to what I know.
Is "Freakier Freak" encouraging fans to be gentlemen in the streets but freaks in the sheets?
Yes! Love the one you're with in the sexiest way possible and drive them absolutely wild in bed. Gotta let that freakier freak flag fly! 
Do you think people need to lighten up when it comes to what other people do behind closed doors?

It's no one else's business what two or three, or even more consenting adults decide to do with their naughty bits. We all have varied beliefs on sexuality, but we have no right to judge others based on differences of opinion.  And just because you don't agree with someone else's lifestyle doesn't mean you have to let it turn into hatred or violence. Live and let live.
Is there anything you won't do to please a guy?
I definitely have my limits, as most people do. But I'm definitely not vanilla.
Do you jam to your own music?
I'll jam to my own music with my friends when they decide to blast my music in my presence. Hey, why not? But I've really been on a Bruno Mars kick lately. I listen to everything from Cake to Akon to Foo Fighters.
 Why did you release "Freakier Freak" and "Time to Move On" at the same time?
I call them the odd couple. They're so different but they're also two of my favorite songs.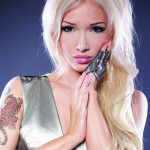 It's a flashback to the early nineties when artists would release record singles with an A and B side.
You got it! 
The A is the track that matters, the one that has the most commercial appeal.  Is "Time To Move On" the A track?
Don't make me choose. I love them both. They're two sides of the same coin. 
How so?
We all have our naughty and nice sides.
Even you?
Sure. I just love combining a lot of naughty with a little nice. 
What's "Time To Move On" about?
We all get into situations where we end up trapped in a comfort zone.  We're not happy but not willing to do anything about it. Although it might not be the easy choice, we have to let go of the things that hold us back or hurt us. Life is too short to get stuck. 
It's often hard to tell the right time to move on.

When you know that something isn't right, you gotta go. Even if it's just in the back of your mind, you have to listen to your gut because sometimes we push our feelings back. Make a change before regret kicks in.
Are you always moving on?
I guess you could say that. My friends are always surprised at how quickly I let things go. If something doesn't work out or I have a bad experience, I don't let it get to me. There's no point.  I suppose that means I am constantly moving on and forward.
What's next?
That's a loaded question! More music, more touring, more filming, more everything! I'm ready to rock and I'm not slowing down.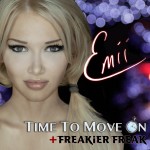 "Time to Move On" and "Freakier Freak" and their remixes are available on iTunes now.  Visit www.emii.net