Fits Me – Grab the correct condom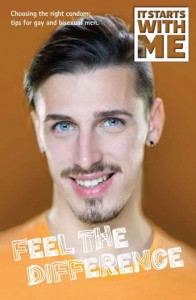 Gay and bisexual men in England will be able to access made-to-measure advice on how to find their perfect condom, as Terrence Higgins Trust and HIV Prevention England (HPE)  launch a new online service called 'Fits Me'.
Now men can access the new service by visiting startswithme.org.uk. The service asks simple questions about size, sensitivity and latex allergy, before giving personalised advice on what type of condom will provide the best fit and give more sensation. Men can then choose to purchase that brand (or others) from campaign partner Freedoms at a significantly reduced price, or take advantage of an introductory offer from custom-fit condom retailer They Fit.
Gay and bisexual men remain one of the groups most at risk of HIV infection in England. Using condoms – alongside regular HIV testing and antiretroviral treatment for those living with HIV – has been identified as a key factor in halting the spread of the epidemic among the gay community. Using condoms and lube when having anal sex drastically reduces the risk of sexually transmitted infections, including HIV, being passed on. A recent study showed that, if every gay man in the UK had stopped using condoms in 2000, there would have been an extra 80,000 HIV infections within the community by 2010.
Cary James, Head of Health Promotion at Terrence Higgins Trust, said: "No self-respecting gay man would go to a shoe shop and pick up a random pair of trainers, so why go with the first condom that comes to hand? We want to remind guys that selecting the right condom for you is a consumer decision. These days there's a huge range of brands out there – in different sizes, shapes, thicknesses and materials – and just a little bit of research can yield a big improvement in sensation. We hope our new 'Fits Me' service will make it even easier for guys to find their perfect fit, and help them to stay safe while having the best experience possible."
As well as the 'Fits Me' service, the website also carries information on the different types of condoms and lubricants available. It will be promoted through press and online adverts, leaflets, posters in gay venues, and on tens of thousands of condom packs distributed at venues and events across the country. The campaign will also be rolled out across England through a network of regional organisations, funded by HPE to promote the campaign in their local communities.
HIV Prevention England is a partnership of community organisations headed by Terrence Higgins Trust and funded by the Department of Health to carry out national HIV prevention work in England among communities at an increased risk of infection.