Laughing Horse Free Festival  – Gay Straight Alliance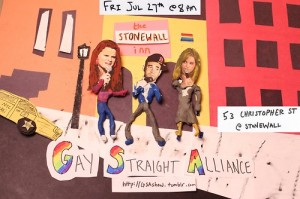 After playing to standing room only crowds at her 2012 Edinburgh Festival Fringe debut, Veronica Elizabeth is proud to return to this year's Free Fringe Festival at the Edinburgh Festival Fringe with her sardonic stand-up comedy showcase 'Gay Straight Alliance. 
 The 60min show plays again at The Laughing Horse Free Fringe venue, The Phoenix at 10.00pm from 1 – 29 August
Reloaded with edgy new material, Gay Straight Alliance sees gay female host and producer Veronica Elizabeth together with a rotating cast of LGBT and straight comics find the funny in sex, dating and everything in between.     Super-talented comedians appearing this year includes funny lady Rosie Wilby, American in London David Mills and gifted funny guy Adam Strauss.
Fed up with the predominantly straight, white, male-perspective comedic offerings, Veronica Elizabeth conceived the Gay Straight Alliance Comedy Show format – a unique sexuality mash-up which always features a mix of LGBT comedians on the same stage.
 The format, which has mainstream appeal, breaks down barriers and challenges stereotypes, was an instant hit.   So successful was the comedic mash-up, an ever changing trio or quartet of LBGT comedians perform monthly under the banner of the Gay Straight Alliance at the home of the 1969 Stonewall riots – the Stonewall Inn in New York.
 "The Gay Straight Alliance comedy format is pretty unique" says Veronica Elizabeth. "Audiences love the mix and the humour of an all LGBT line up each of whom look at life from the same page but from a different perspective and ironically it's funnier. Come see for yourselves – no pun intended".
Listings information,
Show:  Gay Straight Alliance
The Phoenix Fringe Venue 146
46 Broughton Street, Edinburgh, EH1 3SA
Admission:   Free