Gaydar creates the sexiest man
The original gay male dating website surveys over 4,000 members on the most fancied celebrities to compile how the sexiest man should look.
Gaydar.net, one of the world's most popular gay dating sites, has just surveyed its male members to uncover their thoughts on the most attractive elements of their favourite male celebrities. In a bid to create the sexiest looking man, members rated celebrity body parts and personality traits from David Beckham to Zac Efron.
Typically a heterosexually focused survey, Gaydar has taken the reigns and decided it's time for the sexiest man to be identified from the gay male perspective, and here he is…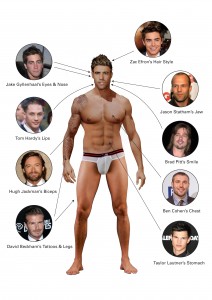 [Image: gaydar.net/]
The Body
According to the poll, the sexiest man would be fortunate enough to have Ben Cohen's chest with Taylor Lautner's stomach, Ronaldo's butt, Ronaldo's biceps and personality, as well as David Beckham's legs, tattoos and wealth.
The Face
Facially, the most attractive combination voted for includes Brad Pitt's smile, Gerard Butler's voice, Jake Gyllenaal's eyes and nose, Zac Efron's hairstyle, Tom Hardy's lips and Jason Statham's jaw.
What Are Top Priorities for Gaydar Guys?
Sex appeal is, by far, the main element in making the sexiest man with nearly a third of men picking this as their first preference and one fifth including it as one of their three preferences.
It's confirmed: Gaydar guys are also a sucker for a pretty face as the smile and eyes were the second most important factor (with 14% and 13% of votes respectively).
Personality and talent were also considered, with respondents choosing their ideal man to possess Gerard Butler's personality, David Beckham's sex appeal, Amir Khan's sporting prowess and Jude Law's dress sense. Surprisingly though, just 8% of Gaydar guys identified a personality as a primary factor in attractiveness and only 1% said dress sense.
It's fair to say that Gaydar guys aren't gold diggers because wealth is not seen as important either, with less than half a percent choosing this as a preferred feature.
The Celebrity Relationship Favourite
The sexiest celebrity overall is David Beckham. He is also the celebrity gay guys would most like to introduce to the parents (13%), yet a similar percentage of guys said they would actually avoid him (12%) suggesting that although sexy, not everyone thinks Becks is relationship material.
Gaydar Mobile
Gaydar has recently launched the Gaydar mobile site enabling members on the go to use the site with ease from Android and iPhone mobile devices. With the unique 'Find Him' feature searching six million men, it's quicker and easier for members to find their own sexiest man.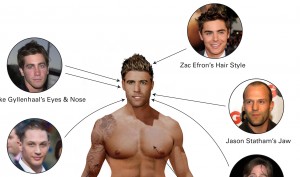 To see the full survey results and find out which celebrities come top for other areas, visit the Gaydar blog.