Photo: Graham James.
Chocolate 'n cheese, mountain 'n lake, money 'n men: Adrian Gillan is far from neutral about the sporty summer outdoors in gorgeous Switzerland, on a tailor-made all-action adventure!
Bored of the beach? Done with using your holiday to merely lie back, pig out and get drunk?
If so, then the invigorating glories of Switzerland most naturally await! And the Switzerland Travel Centre offers an all-year-round programme of rail holidays, city breaks and ski holidays – as well as independent hiking-and-cycling tours during the summer months! It's on hand to help you build your very own tailor-made holidays to Switzerland via a variety of flights, accommodation, travel passes, individual rail tickets, mountain excursion tickets, scenic trains, Eurostar, TGV and car hire!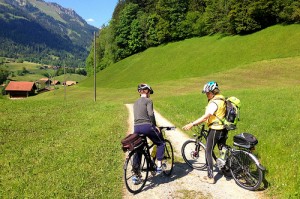 Photo: Rob Crabtree
One of the Switzerland Travel Centre's main providers is SwissTrails – run by charming couple Ruedi and Prisca – which specialises in a wide range of hiking and biking holidays, including essential transfers between various stretches of your gloriously outdoor adventure, along extremely well sign-posted national hike and bike routes.
After all, it's the great outdoors that makes all those hunky, tummy-tight local guys such Swiss beauties! And – sure – you can still drop into the odd spa, and savour the finest cities, food and wine, en route!
SAMPLE SWISSTRAILS TRIP: BERNESE OBERLAND & GRUYÈRE REGION!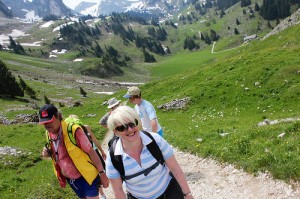 Photo: Rob Crabtree
DAY 1
Fly SWISS to Zürich Airport where you are warmly met by a SwissTrails rep before being whisked, by minibus, to the SwissTrails "Bike & Hike Terminal" where you are briefed about the whole tour, sort out your bike (either traditional touring bike or electronically-assisted 'e-bike') and helmet rental, and fuel up on light refreshments before being transferred – bikes, luggage and all – to your true starting point, at Boltigen, amidst the heavenly Bernese Oberland, where the real action begins!
From Boltigen, flex your gears 50km or so down the picture-postcard Simmental Valley – with its gushing River Simme and fairytale chalets – to the water-sports hub of Spiez on the Thunersee lake, past Interlaken, to cute little Iseltwald where you can enjoy dinner and a good night's rest at the waterside Hotel Strand, perched slap-bang on the Brienzersee lake!
DAY 2
Take breakfast and a sunrise skinny dip (optional!) in the Brienzersee's chilly willy-withering waters, before transferring by minibus to Thun, where – after a brief lesson – you take a "self-guided" 3-hour-long river trip down the sparkling Aare River, from Thun to Bern, in a 3/6-person mini-raft, negotiating the infamous "Uttiger Schnelle" rapid en route! After landing the raft on the outskirts of Bern, hop back onto your bikes – thankfully brought along in said SwissTrails minibus – and make for the wonderful Restaurant Schwellenmätteli, for a spot of lunch on the banks of the river, beneath Bern's lofty Old Town. Then, after a quick walking tour of the UNESCO World Heritage Site that is the Swiss capital – taking in its medieval shopping colonnades, parliament, clock tower, bear slopes and cathedral – you continue your bike ride, out of Bern, following the River Aare through more gorgeous countryside, to lovely Aarberg, where you dine and overnight at Hotel Krone, right on the picturesque town square.
DAY 3
Breakfast done, it's "bye bike, hi hike", as you transfer by SwissTrails minibus from Aarberg to Schwarzee – for a ½-day hike through the Gruyère Alps, ending with lunch at cute mountain restaurant Ritzlialp. Then it's a quick transfer by minibus to the Maison Cailler traditional Swiss chocolate factory for a highly interactive tour and pretty much as much fresh chocolate as you care to sample! Then: on to the beautiful town of Gruyères for dinner, if you've any room left, at the fantastic Restaurant des Remparts on the main square, followed by a restful night at the nearby Hostellerie des Chevaliers.
DAY 4
After another hearty hotel breakfast, visit La Maison du Gruyère dairy to explore all things cheesy, followed by a tour of the medieval town of Gruyères, including its lofty castle and Giger Museum, dedicated to the tad-raunchy work of this Swiss sci-fi fantasy artist of Alien fame. After a fittingly fondue farewell lunch at the restaurant of the Hotel de la Fleur de Lys, again on the main square, transfer – via the shores of mighty Lake Geneva – to Geneva Airport for a fab SWISS flight back home!
•    SwissTrails offers a wide range of activity packages throughout Switzerland bookable via the Switzerland Travel Centre – prices from around £535 per person based on a 5-day trip, including flights and 3-star accommodation. For more info or to book call 020 7420 4938.
•    SWISS operates up to 31 daily flights from London Heathrow, London City, Birmingham and Manchester to either Zurich, Geneva or Basel. Fares start from around £98 return, including all taxes. For reservations call 0845 601 0956