Get ready for some summer Anttix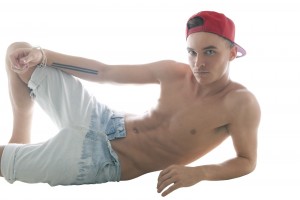 During the last 18 months, Anttix has toured the UK supporting some of the biggest names in music, clocking up performances to over 2 million people alongside artists including The Saturday's, McFly, Rita Ora, Ed Sheeran and Conor Maynard. To date, Anttix has also received global online coverage with millions of views of live sessions and promo videos shared around the world.
After attracting attention from Simon Cowell's label Syco, Anttix is preparing to smash his way into the charts with the release of his hotly anticipated debut single 'Tornado'. Described by critics as "a pop smash" and "one of summer's biggest anthems", Tornado is attracting attention from across the globe.
This summer, Anttix domination of the gay scene continues with performances at some of the major city Pride events… but just who is this slim cutie with no clothes on?
Me. Haha…I've been asked this question so many times. I probably should have thought of an answer by now!
Is he a character or the real you?
He's the real me for sure! I think I probably get away with more having my Anttix persona, but it's just me! I'm not some kind of Hannah Montana. Ain't no one got time for that! Haha.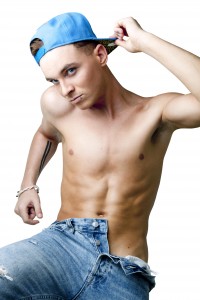 You seem more than happy to get stripped for the photographer… have you ever had any hang-ups about getting naked?
Umm…haha. I'm always game for a laugh. My most recent topless shoot was "different" for sure. When the photographer asked me to 'take off my underwear' under my jeans I knew it was serious.  I just wish I maybe went to the gym or something before having my body printed in magazines. Next time I WILL be buff. Promise.
What was your first job in music?
Depends what you call a job? What I do now is something I've always worked towards, and I don't really see it as a job
What's the best gig so far?
There's been so many… recently taking to the stage along side Rita Ora and Connor Maynard at 'As One in the Park' event was amazing. I also love smaller gigs, like my current schools tour: the kids are mental. I also loved my first international gig, and since then I've been travelling the world, it feels amazing!!
You look set to be playing a host of gay pride events this summer, what are your thoughts on same-sex marriage and public displays of affection?
I think it's crazy how it's even an issue to some people! If two people love each other and want to marry then why should it matter what sex they are? I'm a true believer in equality. We need to live in a world where people can be who they want to be. Life is about being happy man! Bring on the gay weddings! Don't forget my invites! Haha… I'm not really one for public displays of affection really but I guess love is mental so fair play to anyone who wants to display it. I'm a holding hands sorta guy – that's my limit.
Who would you like to perform with if you got the chance?
BIEBER! Haha…No I'm joking. Wait, I'm not! I'd love to work with loads of people I guess it would depend on the style of track! I get lots of tweets from Conor Maynard fans asking us to work together. I met him backstage recently and he seems like a cool guy for sure.
What is your favourite form of relaxation?
Sleeping. Zzz. I don't get much of it anymore with all this travelling and gigging so when I do I could sleep for days!
Are you seeing anybody special at the moment?
I see special people everyday. That's all anyone needs to know. :P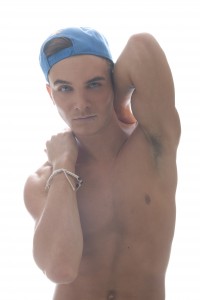 Are you a clubbing or a home boy?
I love doing both. I'm a little bit of a party animal. I am trying to calm down a little though! Sometimes you need a good night in and chill. Get someone over and order way too much munch and put on a good movie!
What constitutes a good night out for you?
Loud music. Space to dance. I also love a good bevvy – I can't stand watered down drinks. I'm also one of those 'I LOVE YOU' drunks. Need I say anymore.
What is your guilty pleasure?
Posting WAY too risky photos on my Instagram/Twitter.  Don't forget to follow me! ;)
These are some of the Pride events that Anttix has or will be appearing at: 
Gran Canaria Masapolomas,  One in the Park,  Birmingham Pride, Bristol Pride, Leeds Pride, Brighton Pride, Wolverhampton Pride, Cardiff Mardi Gras, Reading Pride, Swansea Pride, London's Summer Rites Pride, Essex Pride.
Photos: Alex Wightman