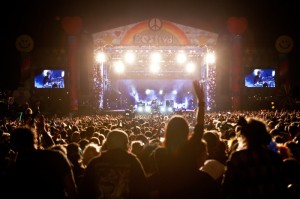 Photographer: Louise Roberts.
 There's always been a flamboyant air around Bestival. With a cheeky touch of chi-chi style and a knowingly arched brow, they've played host, over the years, to some of the most outrageous turns around, from the finest alternative cabaret to some deliciously debauched club action.
So, with their spectacular 10th birthday fast approaching from 5th-8th September, they've lined up the biggest and the very best array of ostentatious entertainment you're ever likely to see, as Bestival goes cruising!
'Bestival is ten years old this year and I'd like to think over the last decade of dancing at our beautiful festival that we've been one of the most open minded festivals in the world welcoming all, it sure feels like that at 3am on a Saturday morning. This year we've teamed up with some of the UK's most dazzling trailblazers to bring some outrageous and uninhibited parties to the lower decks of HMS Bestival. Stand by for a cast of freaky girls and hot sailor boys stoking the fires as we steam towards the dawn… See you at the bar, boys!' – Rob da Bank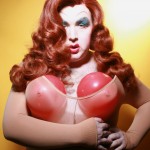 'My brief was to help get the gays to the island and this year Bestival will be flying the (rainbow) flag with pride. I'm really excited to be bringing four productions to Bestival this year, including the debut of 'Drag' – with local drag performers, my solo show Scottee and for the second year running my variety show 'Camp' and not to forget the infamous 'Room Service'. – Scottee
That's right, Room Service, London and New York's hottest gay party is coming to the brand new venue, The Port, to hit you hard and deep with a festival premier that's exclusive to Bestival 2013! There will be a soundtrack of killer underground house beats and aural stimulation from GoGo boys, plus some obligatory tranny madness thrown in for good measure, bringing Soho and the Meatpacking District to the Isle of Wight.  Room Service takes you DOWNtown and keeps you UP all night with DJ's Jodie Harsh, Kris Di Angelis and Severino. This is a deluxe gay dance party and a downright naughty secret. You want to know why this night is so deliciously infamous? Come and find out at the Port on Friday…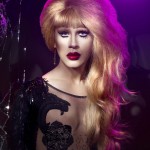 'I can't wait to get to Bestival, and we're shipping the whole Room Service troupe from Soho to the Isle of Wight. Prepare for hot boys, gogo dancer action and crazy tranny madness set to a soundtrack of underground house. That's my kind of party!' – Jodie Harsh
Also celebrating a joyous tenth anniversary, we're very pleased indeed to welcome back the fabulous Horse Meat Disco. A disco behemoth beyond compare it's the queer party for everyone, where they'll be slipping a sensuous selection of Italo disco, house, oddities and punk funk onto the sound-system for your delectation. Inspired by the music and inclusive ethos of New York's heady club scene in the 80s & 90s, the collective has garnered a unique reputation for throwing amazing parties with unmatchable sets. The quartet of DJs each mixes their own individual interpretations of the disco sound with a soundtrack that marries their expertise and shared knowledge and experience in the field. Expect all manner of dancefloor movers.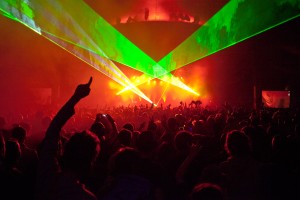 photo: dnnsn.com
But that's not all, after last year's spectacular debut, Bestival's glorious adventure-land The Grand Palace of Entertainment is back!  So leave your inhibitions at the door and crank up the fun factor…On the outside, it's a beautifully decorated traditional fairground facade. On the inside, it's a rainbow coloured pleasure-seeking, twisted, hot-house of fun.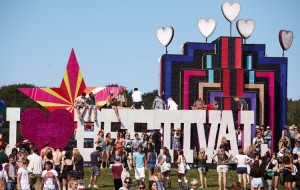 In the daytime, masters of entertainment Massive in China will be presenting an eclectic and intriguing selection of comedy, cabaret, games, foot-stomping music, plus a generous sprinkling of other oddities and spectacles.
It's going to be a colourful ride, friends. See you in wonderland!
https://mag.bent.com/catholic-dating-online/