SAFETY FIRST! – LIVERPOOL PRIDE CROWDS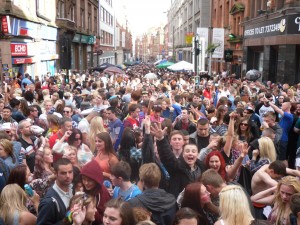 Photo: Sean Weaver
As part of its commitment to remaining one of the city's most safe and welcoming events for families and partygoers alike, Liverpool Pride will be introducing controlled access to its sites this year.
Since the first Pride in 2010, the annual event has been an overwhelming success, becoming a much-loved addition to the city's summer calendar of events, with visitor numbers significantly exceeding estimated figures year-on-year.
In that short time it has become the largest free LGBT Pride event in the UK outside of London – in 2012, it brought 55,000 visitors to the city from all over the country, and prides itself on providing a host of family friendly activities to ensure the event remains inclusive for all.
This year Liverpool Pride will take place on Saturday 3rd August. In a bid to ensure sufficient crowd safety, discourage underage drinking and anti-social behaviour and maintain a pleasant environment for all attending the festival, the two festival sites at the Pier Head and Stanley Street quarter will be subject to controlled access ahead of entry.
Visitors planning to attend Pride are warned this year that alcoholic drinks purchased outside of the festival sites and drinks in glass containers will not be allowed in to the festival. Food and soft drinks in sealed plastic bottles may still be brought along.
The addition of controlled access comes from following discussion with Liverpool City Council and Merseyside Police.
James Davies, Liverpool Pride festival manager said:  "Our city's Pride has grown to become the UK's largest free LGBT hosted event outside of London in just three years. To keep the party and celebrations safe and enjoyable for everyone we've taken the step to introduce controlled access to our sites.
"The safety of our festival goers remains our number one priority and we are delighted that thanks to the support of Liverpool City Council, our sponsors and Stanley St Quarter bars that we can continue to keep the festival free for all."
Liverpool Pride is working closely with the on-site festival bar providers and city gay bars, particularly in the Stanley Street Quarter, to ensure drinks prices stay reasonable for those who will be enjoying an alcoholic drink on the day.
Access to the Waterfront location will be via Mann Island, Water Street or the Mersey Ferry from the Wirral. Stanley St Quarter will be accessible from Dale Street at North John Street, and Tithebarn Street for those arriving from Moorfields Station. Those taking part in the Pride march are reminded that city bye-laws ban alcohol from being consumed or opened throughout the rest of the city centre.
Although this will be the first year that Liverpool Pride has introduced a perimeter fence, it is not the first Pride festival to do so. London Pride, which is also a completely free festival, fences its main Trafalgar Sq festival site to maintain the safety of visitors.