RUSSIA'S CRACK DOWN ON GAYS AND LESBIANS, FREE SPEECH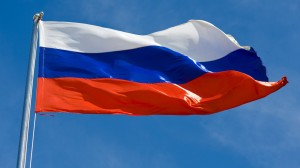 They may have lost the hammer and sickle emblem from their flag but the country's government still insist on repressing their own people.
Russia's Parliament passed a bill that would make it a crime for people to talk to say being gay or lesbian is normal, to celebrate pride, or to tell minors it is OK to be gay if they are struggling with their sexual orientation. Foreigners could be deported from Russia if they even communicate electronically in support of gays and lesbians.
This was the second reading of the bill. The State Duma voted 434-0 with one abstention. It is expected to easily pass the Upper House, after which Putin is expected to sign the bill.
"This bill is outrageous and incredibly dangerous for millions in Russia – both gay and straight," Andre Banks Executive Director and Co-founder of All Out said. "This is a dangerous crackdown on free speech. No one will be safe from the witch hunt that will ensue, not gay people, not straight people, not even foreign businessmen and women traveling to Russia."
This new law will significantly hinders an already struggling human rights community in Russia. The Russian government is suing gay rights organizations under the new "Foreign Agents" law. The law stipulates that any organization working on "political" issues that receives support from outside of Russia has to be identified as a "foreign agent." So-called "foreign agents" are considered enemies of Russia under the law.
The penalties for accepting c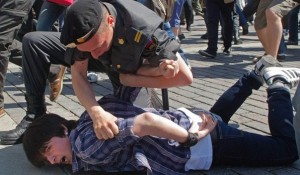 ontributions from beyond Russia are stiff. Coming Out St Petersburg, a Russian equality organization who has partnered with All Out for two years, went to court on recently to fight closure because of fines.
"The crackdown against gays and lesbians in Russia is very troubling," Andre Banks said. "While the rest of Europe is building a world where no person will have to sacrifice their family or freedom, safety or dignity because of who they are or who they love, Russia's policies are making life more dangerous and less free for not only gays and lesbians, but all of Russia."
Putin ha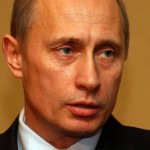 s shown he's sensitive to international pressure about his treatment of gays and lesbians. During his visit to the Netherlands in April, he was greeted by a protesters and critical media coverage. At a press conference in Amsterdam Putin said, "'In the Russian Federation – so that it is clear to everybody – there is no infringement on the rights of sexual minorities," he said. "These people…enjoy all the same rights and freedoms as everyone else.'
Yet after two brutal murders for being gay within weeks, the Russian government has only intensified the anti-gay crackdown.
"The level of the crackdown against gay and lesbian people in Russia is at a new high," said Polina A. from Russia's equality organization Coming Out. "We have seen what All Out members can do to bring the attention of the whole world at critical moments. Now it's time world leaders pay attention to us or soon there will be no more human rights and equality defenders in Russia."
More than 75,000 people from within Russia and around the world signed a petition on All Out calling for Putin to stop the legal assault on gays and lesbians.
"This anti-gay crackdown does not represent Russian values," Andre Banks said. "These are the values of the Russian Orthodox Church, whose conservative ideology will only drive Russians further into fear and isolation. Russians, like all people, want to be free."
To see the live signature totals from All Out's petition visit:
www.allout.org/russia-attacks